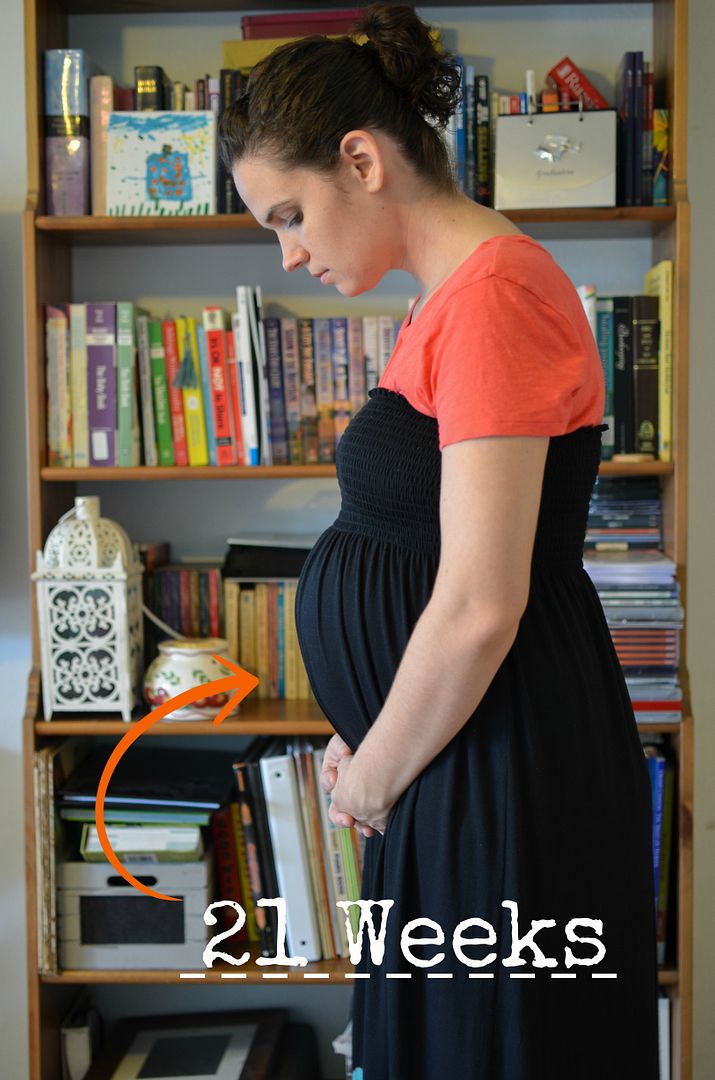 This pregnancy has gone by super fast. How am I already at 21 weeks?!
I've seen those pregnancy update blog posts all over the internet and while I know I'm not motivated enough (nor do I probably have the time) to do weekly updates, I think I can manage to squeeze in the occasional update before the baby's due. If only for my own record keeping.
So here we go!
How far along?
21 weeks and 4 days
Total weight gain/loss?
About 20 pounds. *ahem* In the beginning food in general just didn't sound that great and my go-to solution to that is usually junk food...because somehow that always tastes good? I'm eating a lot healthier now mostly because I try not to keep junk food in the house. Willpower I have not.
How big is baby?
Size of a pomegranate. About 10.5 inches and 12.7 ounces. It hiccups as a means of practicing breathing and its stomach can absorb energy boosting nutrients from the amniotic fluid it swallows to practice eating.
Stretch marks?
No new ones. Yet.
Sleep?
I don't feel the need to take naps every day anymore and I can stay up later (past 10) without regretting it too much in the morning. Hopefully my kids don't wake me up too early. I do wake up a few times during the night to roll over which is starting to get difficult and for the past two nights I've woken up in the morning with sore hips.
Fitness?
Does chasing kids around all day count?
Best moment this week?
Finding out
we're having a boy
!!!
Miss anything?
Sleeping on my stomach. Wearing regular clothes.
Food cravings/aversions?
No very intense ones. I do enjoy potatoes, pasta with sauce, and anything spicy. And occasionally I crave something sweet only because I haven't been keeping a steady supply of sugary snacks in the house. No aversions though.
Anything making you queasy or sick?
No.
Current Symptoms?
Having Braxton Hicks contractions several times a day. I had them a lot with Lily but not that much with Reuben. They're uncomfortable but not painful. Feeling lots of movement now. I can even feel him kick on the outside although Andrew and the kids haven't been able to experience that yet, not for lack of trying. Mostly I feel peppy and somewhat energetic. I was telling Andrew the other day (yesterday? today?) that I feel like this has been a fairly easy pregnancy except for the exhaustion, nausea and heartburn in the beginning. I know I'm only halfway there but so far its been, dare I say it, easy? This pregnancy reminds me of my pregnancy with Lily in a lot of ways.
Belly button in or out?
In.
Wedding rings on or off?
Off.
Mood?
Nesting a bit. Mostly in my head at this point. I have so many good intentions of getting this house clean and organized which haven't come to fruition yet because, well I find other things to do. I have a feeling nesting mode will hit me hard later on though.