The crafting bug bit me hard recently. While pinning just
one more
sewing idea to my Pinterest board one day, I realized that my children are growing up so fast and won't always want to wear things handmade by me and so I had better actually
make
all those things for them to wear before they get to that point. Walking past and catching a glimpse of the ever growing, mile high pile of fabric in my armoire certainly adds to the lack-of-sewing guilt.
So in a determined mood last week, I pulled out the vintage 1976 White sewing machine that was handed down from Andrew's grandmother to his uncle who gave it to Andrew. I love this sewing machine. I am by no means a sewing expert but this machine is smooth and there's just something about using a hand-me-down versus a brand new machine. There's history there ya know? And now that I think of it, I've blogged about this
before
. And sadly that was the last time I used it too.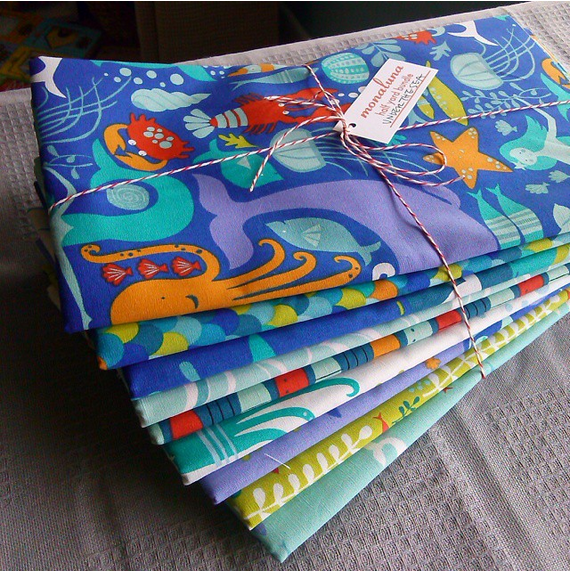 After dusting off the (figurative) cobwebs, I followed
this tutorial
I found on Pinterest and made Lily a skirt. Its not perfect by any means but it was super easy (even with my changes to it) and she loves it. I recently won a giveaway on one of my favorite blogs,
SouleMama
, and received a gorgeous half yard bundle of
Monaluna
organic fabric. My first thought was to make a quilt out of it since its all from their under the sea collection and wouldn't that be so cute? A little something to cover up the kids' dolls maybe? Then I remembered how I peter out quickly on more in depth projects like that so I switched gears and had Lily pick out a fabric that she liked. We happened to be at Walmart the next day looking at fabric and she picked out the white with black dots saying she wanted it for her skirt too. I thought a tiered skirt would be doable so I picked out the red gingham and we left, both of us happy with our selections.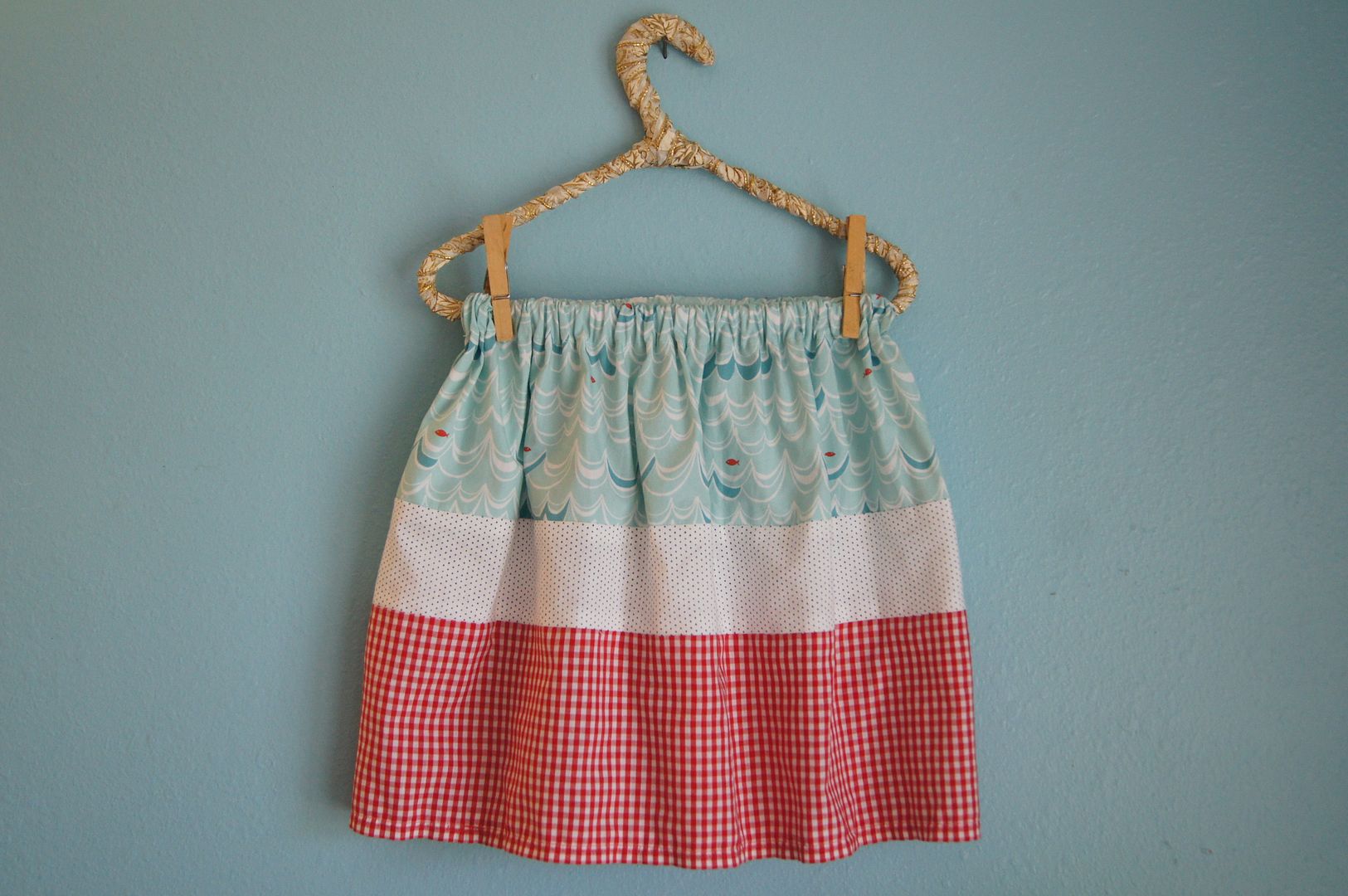 When I finished the skirt I realized that I had made it a bit too short. I like them to reach to at least just under the knee and preferably an inch or so longer. So I had to remove the bottom panel and add a longer one. Its still cute. And Lily could care less. I made her a skirt. :)
In the spirit of trying to include more crafting of all kinds in our home-life, and because Lily asks to do "a project" almost every day, I set her up one afternoon with a home-made weaving loom and let her at it. I thought I had pinned the site I used to make the loom and directions on how to weave but I guess I didn't. Ah well.
She gave up about halfway through the project saying that she just didn't want to do it any more. And that's fine. It may not be her "thing." It may be a little advanced for her too. I think I'm going to ask her if I can finish it and then hang it as a collaborative effort. I really just want to use her loom. Seriously, its the cutest thing and there are some lovely weaving tutorials online.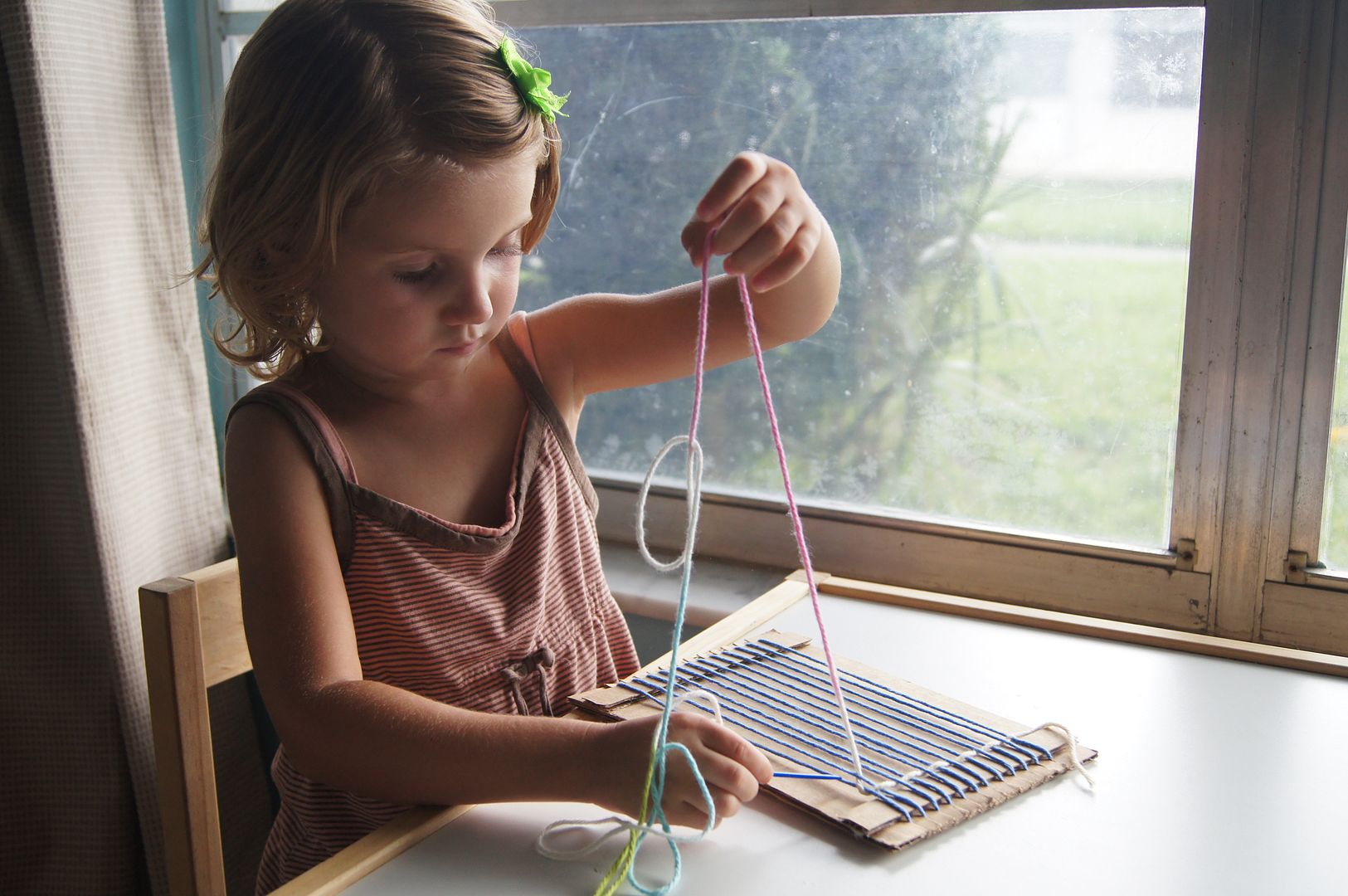 Next up on the craft to-do list is an autumn tree that the kids and I are planning to decorate with colored leaves. We also have pine cones I plan on making into a garland to hang. Bring on everything fall!