We are avid readers in this house. I always had my nose stuck in a book growing up (Nancy Drew, Trixie Belden and The Boxcar Children mostly) and still try to pick one up when I have the time, which unfortunately isn't too often since kids entered the picture. I'm usually in the middle of several books at the same time. I never used to do that but now that I have less chances to steal away by myself with a good book I have to make the most of my time...and my very long wish list of books. Nowadays though you'll mostly see me reading children's literature. And its usually the same ones over and over. These kids love to have me read to them and they know what they like. Here are some of their current favorites.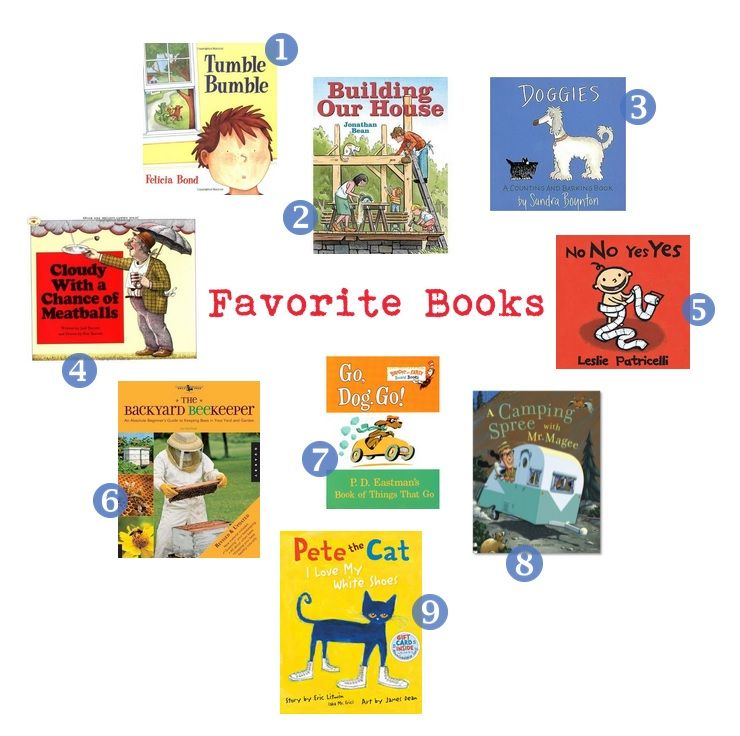 1.
Tumble Bumble
by Felicia Bond - I added this book to my Amazon list thinking that since its written by the woman who illustrated
Big Red Barn
- which was so well loved in this house we had to purchase a second copy after the first one fell apart - that we would love this as well. And I was correct. We borrowed a copy from the library late last year and Reuben fell in love. He received his own copy for Christmas and it is now the first book he selects when its reading time. He comes running to us with it in his hand crying "Buhbuh!" Its a delightful rhyming story that starts with a small bug out for a walk who "met a cat and stopped to talk." Pretty soon they're meeting all sorts of other creatures and making new friends. Lily has the entire book memorized and now "reads" it to her little brother. I melt in a puddle every time.
2.
Building Our House
by Jonathan Bean - I think this may be in my top 10 favorite children's books for the artwork alone. Its the story of how one family built a house from the ground up as seen through the eyes of the oldest child. Its great for my kids to read because they get to see the kids in the story actually helping build the house. There are plenty of pictures of tools, machines and equipment and explanations for how each work. This is the first book Lily said she wants to bring in the car on our vacation we're taking soon.
3.
Doggies
by Sandra Boynton - Who doesn't love Sandra Boynton books?! They're cute and silly and Reuben just eats this one up! Of course it helps that I make crazy and obnoxious sound effects when I read it. Its inevitable when its a book entirely about the sounds dogs make.
4.
Cloudy With a Chance of Meatballs
by Judy Barrett and Ronald Barrett - Otherwise known as "the meatball book" around our house. This was a favorite of my siblings and I growing up. Yes, I know they made a movie based on the book but its nothing like the book except for the fact that food falls from the sky. The book is way better and dare I say funnier? I remember staring at the picture of the pancake covering the school building when I was little and wondering what it would be like to have your town attacked by food. My favorite was imagining myself wading through a house full of candy. Of course.
5.
No No Yes Yes
by Leslie Patricelli - In this one, Leslie Patricelli's non-gender specific, diaper wearing, smiley, one-haired baby illustrates different examples of No No things such as eating the dog's food and then on the opposite page shows your child an example of a Yes Yes thing like eating a yummy banana. The artwork and colors are simple which I think really draws kids in. Reuben loves to read this book in bed and points to each picture saying "Nuh, nuh. Jes, jes" in a sing-songy voice.
6.
The Backyard Beekeeper
by Kim Flottum - Yes, this is technically an adult book. Or I should say its a book marketed and intended for adults because in our house this is Lily's book. Andrew took Lily to the feed store one day to get dog food. She went off to look at books and fell in love with this one. Of course her daddy's a beekeeper so the apple doesn't fall far from the tree. Andrew and Lily sit and look through it and he explains the life cyle of bees to her. Its a great book for beginner beekeepers both big and small. Lily now explains how things work to Reuben who is quickly joining in on the fascination with all things bees.
7.
A Camping Spree with Mr. Magee
by Chris Van Dusen - Chris Van Dusen may be my favorite children's book writer and illustrator (and props, he hails from Maine!) and I think my kids tend to agree. All of the Mr. Magee books are a riot filled with beautifully detailed 1950's-era illustrations, but this one is by far the best. Mr. Magee and his little dog Dee go camping and have a run in with a curious bear. "On top of the waterfall, fifty feet up!" I hope Mr. Van Dusen continues the tales of Mr. Magee and his little dog Dee. We'd purchase all of them to add to our collection.
8.
Go, Dog. Go!: P.D. Eastman's Book of Things That Go
by P.D. Eastman - This little volume is a condensed, board book version of the original story. As far as I can tell though, this shorter version has almost none of the original text and is in no way similar to the longer, older version. But that's ok with my kids because up until recently they'd never heard the original and absolutely love this little board book. Lily received it for her 1st birthday and it quickly became a household favorite. Andrew and I even randomly quote it. This classic rhyming children's story depicts dogs getting from here to there on all sorts of modes of transportation such as skies, boats and cars. Their ultimate destination being the party waiting for them at the top of a tree.
9.
Pete the Cat: I Love My White Shoes
by Eric Litwin and James Dean - Pete the Cat has quite the following of little, obsessed fans from around the world. Including my two little ones. Pete is a cool, hip cat who plays a guitar and possesses a laid back attitude about life. Nothing is worth stressing over. "Just keep walking along and singing your song because...its all good."