Andrew celebrated his 36th birthday a couple of weeks ago at the end of August. We stretched the partying out over a couple of days and really treated him special.
The first day wasn't supposed to be anything special. It started out as just a normal Wednesday. I had to pick up food supplies for a picnic lunch we had planned to take to the zoo with us the following day so the kids and I headed out late that afternoon to the grocery store. Andrew mentioned recently that he was craving pizza and as he eats gluten-free its not something you can just have delivered from Dominoes (well actually you can, but dang! its expensive for the small pizza you get) and I'm not known for my homemade pizza making skills.
Seriously, if anyone has a fool proof gluten-free pizza dough recipe please send it my way.
So Pillsbury recently came out with a gluten-free pizza dough you can buy in the freezer section next to the ready-to-make cookies in the tube so I thought that would be great surprise for dinner. The pizza, not the cookies. Although we did buy a tub of cookie dough to make and take with us to the zoo. Anyway, while we were at the store I wanted to pick up a card for Andrew so we headed in that direction to find the perfect card. I didn't find one that day but Lily did. I guess I should back up a little bit. When we were leaving the house to go to the store Lily insisted on bringing her money so she could buy something. She grabbed her little coin purse and talked about what she was going to purchase on the way. She decided on a package of string cheese while we were in the grocery section. Upon arriving in the greeting card aisle she lit right up and said "I'm going to buy Daddy a card for his birthday!" And she did. She picked it out herself and only needed me to chip in a dollar since she didn't have quite enough to buy both of her items.
She presented it to Daddy as soon as he walked in the door from work: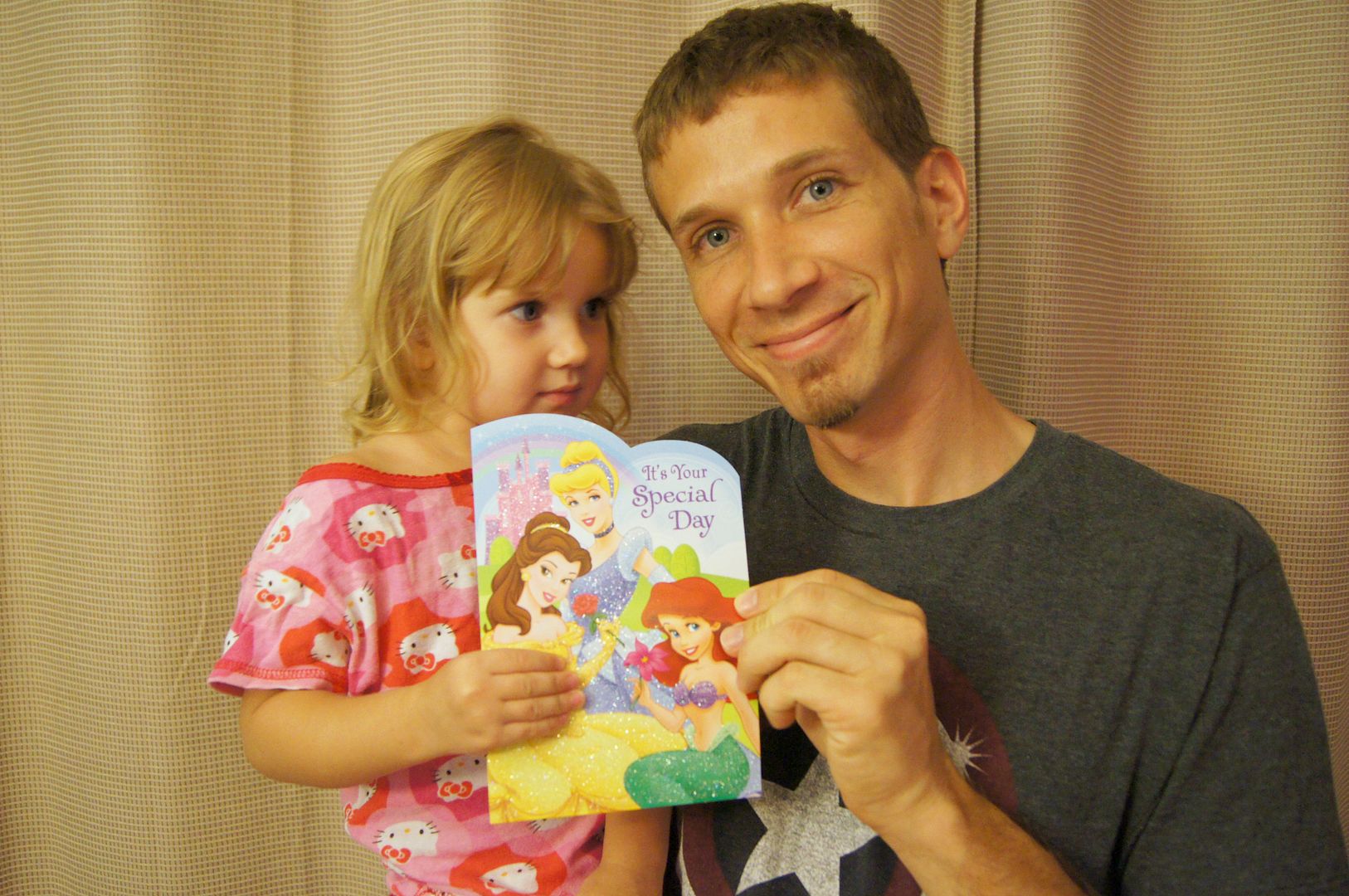 The inside reads:
Happy Birthday to the sweetest little princess in all the land!
Lily even signed it although I had to help her with the y. Andrew still grins from ear to ear when someone mentions that card.
He says the pizza was pretty sweet too! ;)