Before February completely gets away from us (holy heck! how'd it get to be almost March anyway?!), I want to fill you in on what we all got for and received from each other this holiday.
I got a little creative this Valentine's Day. Usually we'll go out to dinner as a family (the day before or after to avoid the mad holiday rush) and Andrew and I will exchange cards. I may even get flowers in the deal. This year however, I decided that it would be neat if Lily joined in and made something for Daddy since she's old enough to understand what the holiday is about and loves any art/craft project I toss her way.
So while browsing my Pinterest boards for ideas that a 2.5 year old can do...and enjoy...I came across
this
. After a trip to Michael's and Walmart for supplies and a last minute painting session which ended literally minutes before Daddy came home Valentine's Day, we ended up with this:
Its a super easy project that is a win-win for both parent and child since
they
get the chance to cover themselves (and hopefully the canvas) in paint and
you
end up with an adorable piece of art hand-painted by your little one.
Supplies you'll need:
Canvas (mine was 10x20)
Painters tape (I used Frog Tape)
Scissors
Acrylic paint
Brushes
Cup of water
Dropcloth or other protective material (I used a brown paper bag)
Most of the letters were fairly straight forward but I was having some difficulty figuring out how to do the O in the word love. I didn't want to just make it a square with sharp corners, I wanted it to look realistic and so I tried doing a regular round O but it wasn't going well. Then it occurred to me to just make it a heart. I wouldn't have to worry about the center then, all I would have to do is cut out the shape and tape it down around the outer edges. So that's what I did.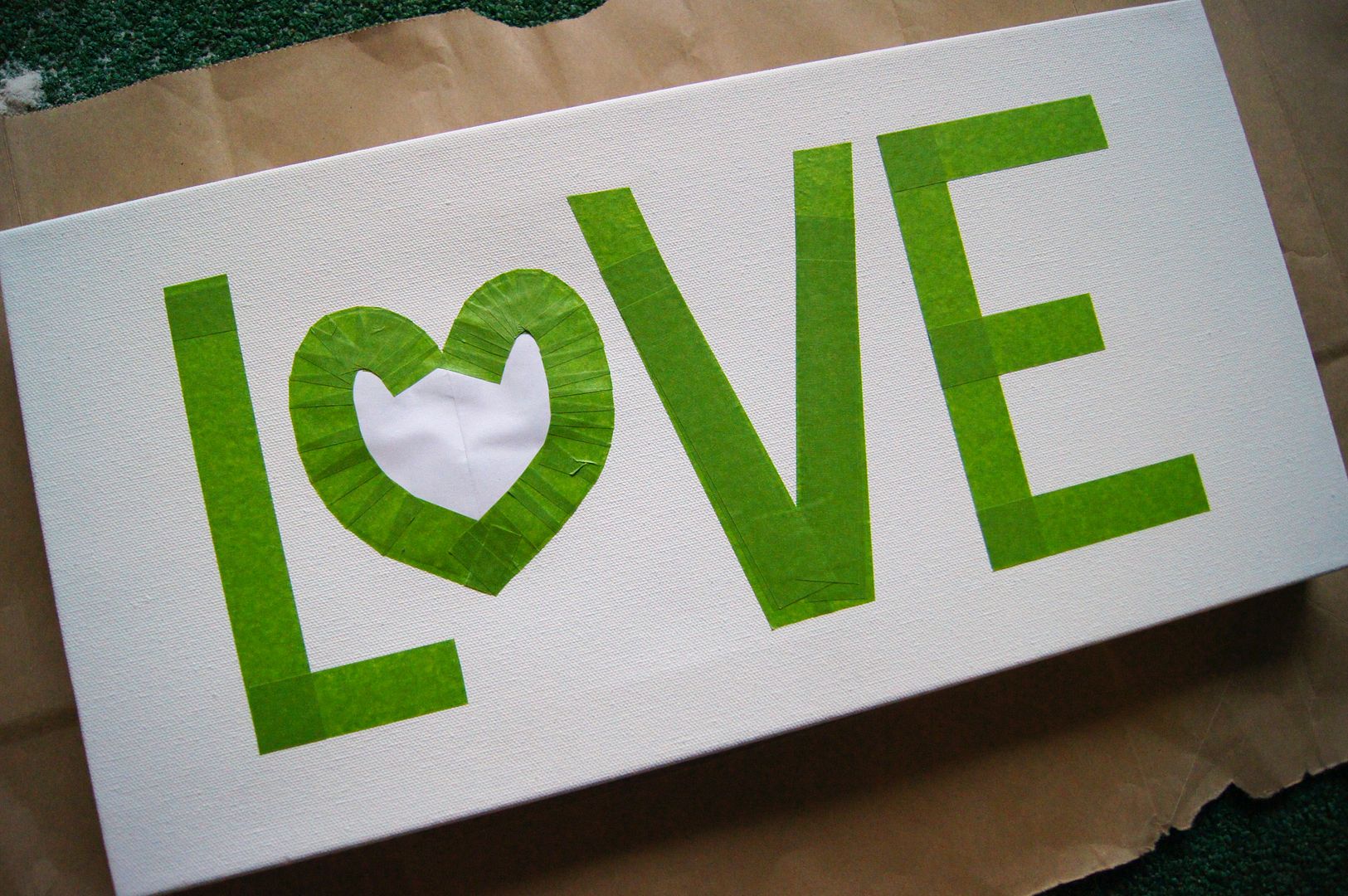 As you can see it took some work (and many tiny pieces of tape) getting the heart taped down but I was happy with how it ended up. I wasn't looking for absolute perfection. After all its a kid's project, its not supposed to look perfect right?
Also, while I used Frog Tape for my project, you could use other kinds of painters tape. During a Google search I came across a brand of tape that is specifically for use on canvas. I just used what I already had on hand.
After everything was taped off I selected which paint colors I wanted and set Lily up on the front porch. I told her to go to town. She did. But she didn't stop at the canvas. She gave herself a mani and pedi too.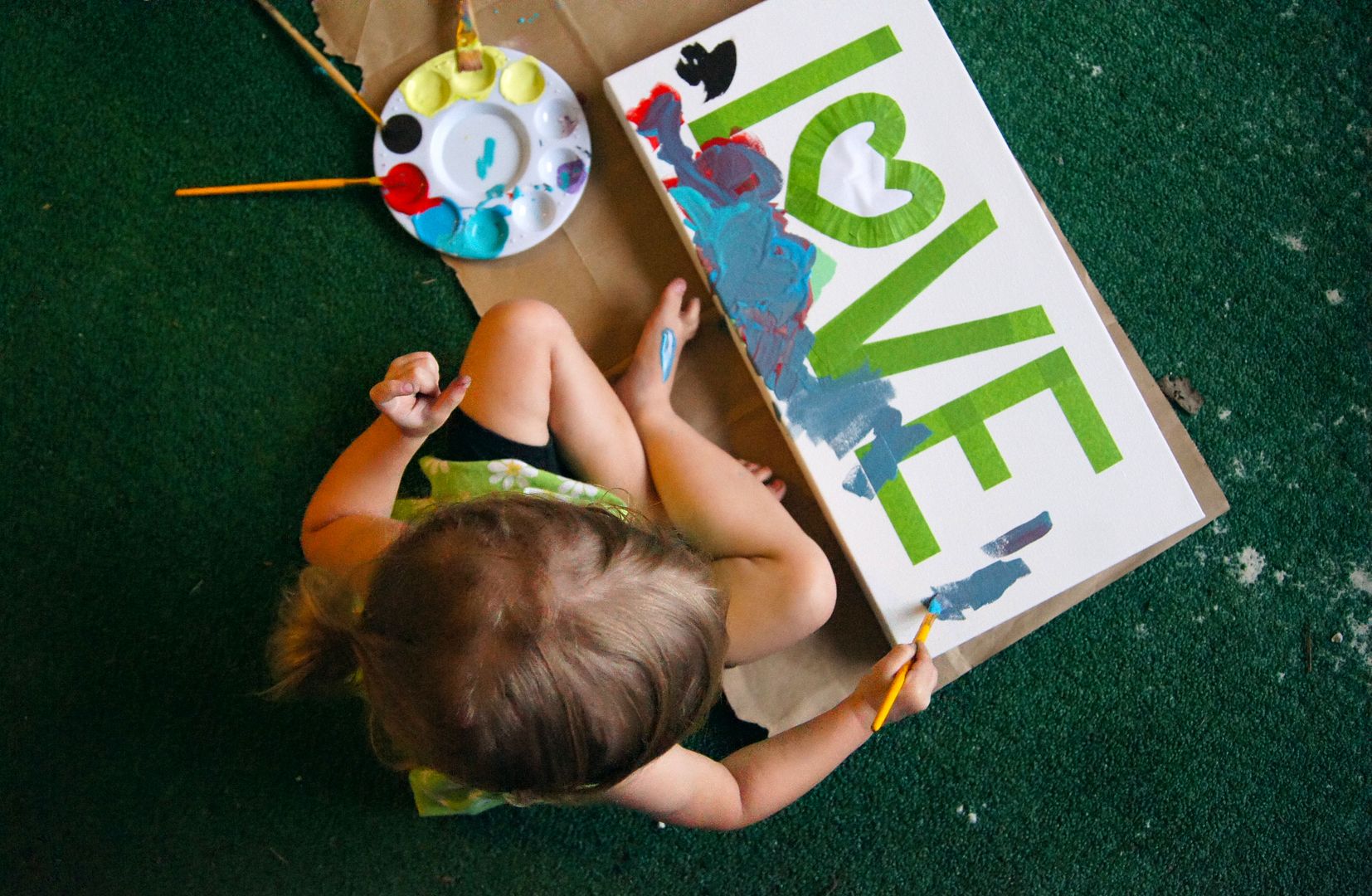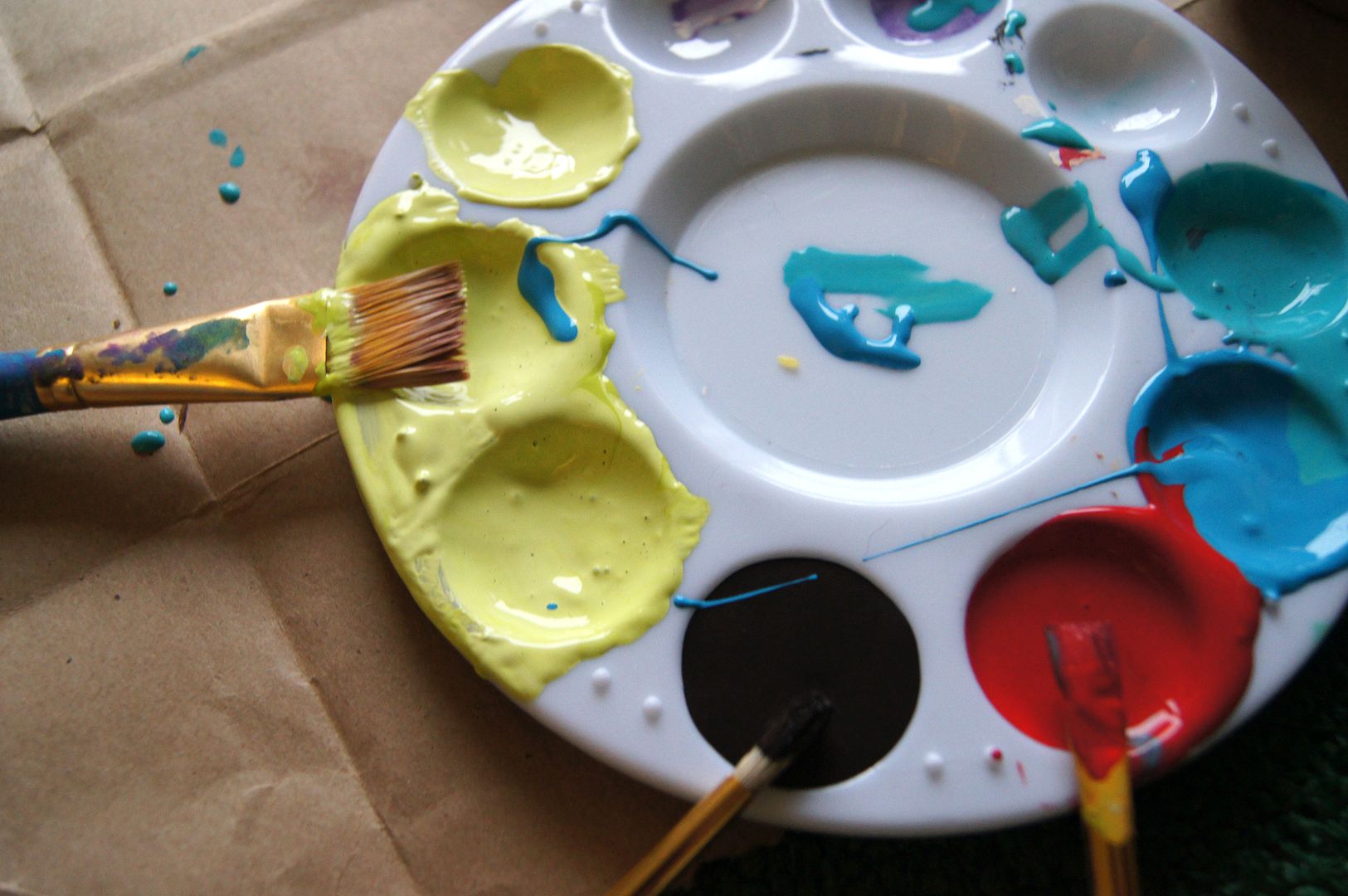 We actually had to wait till the day after Valentine's to surprise Daddy with his gift since it wasn't done drying in time. When the tape was (carefully) pulled off I noticed a couple of spots where the paint leaked through under the tape. No biggie though, I just dabbed a little white paint on those spots. Its best to paint over the tape completely so that when you peel it up the letters are fully exposed and don't blend into unpainted areas of the canvas. I had to help Lily with a couple spots. I also realized I should have taped up the sides of the canvas too but I don't mind that there's paint on the sides. Like I said, its a child's project, its not supposed to be perfect.
Later that night, after Lily took a shower, we got to enjoy the gifts Daddy brought home for us. I received a box of Little Debbie Cherry Cheese Danishes and a large Hershey Kiss (the man knows the way to my heart) and Lily received her very first bouquet of flowers. She wasn't too terribly impressed with her flowers. She was far more interested in tearing one of the roses apart to see what was inside. Oh well. She has many years of receiving flowers ahead of her. She helped me eat my goodies though. I can see the merit in chocolates over flowers too. :)