Hmmm. Maybe I will make Favorite Things Friday a permanent fixture on here. How about once or twice a month? Obviously on Fridays. Duh. It'd give me a chance to talk about things other than my kids. Not there's anything wrong with going on and on about them. I'm sure a few of the Favorite Things Fridays posts will end up being about kid stuff. Its inevitable when you have two little ones at home with you all day long. Anyway, here's what I'm digging right now.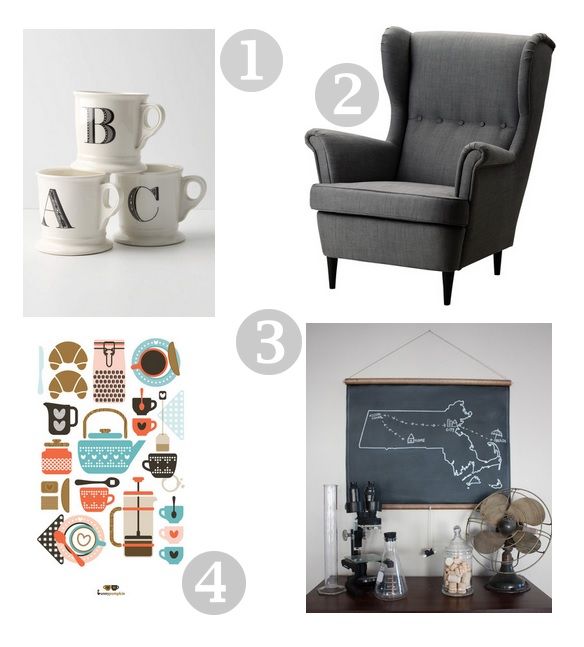 1.
Anthro Monogrammed Mugs
- These mugs totally feed my love for fonts and in less than a week 3 of them will be making their way to my doorstep. The A, H and L ones to be exact. Lily needed her own too. :) She's the one who asks for some of Daddy's tea with her lunch. Mine will more than likely be filled with dark chocolate almond milk. Yum!
2.
IKEA Strandmon Wing Chair
- Andrew and I have been tossing around the idea of getting rid of the living room love seat and purchasing two chairs to replace it. We need new furniture anyway. Interestingly enough, neither one of us have ever purchased living room seating (couches, chairs or loveseats) before; we've always received hand me downs from friends and family. Well our last furniture gift has seen better days and is starting to eat whoever sits on it.
Haha
. Enter this beauty from IKEA and I think I'm in love. I just don't think the cheapskate in me is ready to drop $279 on a chair no matter how utterly gorgeous it is.
3.
Chalkboard State Map
- If you've been on Pinterest recently, read a few blogs or just...existed, then you know that chalkboard anything is all the rage right now. Well I'm ready to jump on board that train. In light of my current obsession with anything map related (I recently Facebooked
this beauty
) I've been thinking of hanging a United States map someone gave me, above the computer desk in the living room. This would be even better! Question is, which state do I chose? My home state of Maine (part of my heart still resides there) or Florida, the state I've made my home now. Decisions, decisions...
4.
Coffee & Tea Print
- Ah, the ever present question: which is better, coffee or tea? Well with this print you don't have to chose. Although if you ask me, coffee has a slight edge. Especially if its a frozen Butter Caramel Iced Capp Supreme from Tim Horton's.
Be still my heart.