Day 1
Sunday, August 26
I'm pretty cynical about flying now. Honestly its kind of boring. Gone are the days of pure excitement just to be standing in an airport. However, as a mother I can't help but relive some of that enthusiasm when watching my 2-year-old take in all the sites and sounds around her in solemn awe.
The flight...well both flights since we first flew into Chicago's Midway airport for a short layover before continuing on to Manchester, NH...were uneventful. Reuben fell asleep as soon as we took off and woke up upon landing each time. Even Lily took a nap with her head on my lap for the first half of the second flight. Getting up at 4 am really tires you out. I took a sticker book, crayons and a coloring book, a small magna doodle type board, and lots of snacks to keep Lily entertained the rest of the time. The most popular item? The snacks. She chowed down on pretzels, gummy fruit bites and goldfish crackers the entire time.
She really liked flying (this was her second flight but the first one she can remember considering she first flew when she was about 2.5 weeks old) except for the parts where the plane went "up and down" - both the take off and landing and also a bit of turbulence that we experienced. That scared her a bit.
After waiting at baggage claim in Manchester - for what seemed like forever - for my sister Clara to pick us up (she got stuck in traffic), we made a quick stop at Target for diapers and McDonald's for dinner. We were hungry and wanted to get "home" as quickly as possible so fast food it was.
Our first stop in Maine was at my dad's house so he could meet both of his grandchildren for the first time.
He nearly cried when I handed Reuben over to him with a "here's your first grandson Dad." Lily refused to go to him. I think its his beard. Of course it didn't help that he met her at the door appearing larger than life, looking down at her with a big smile on his face saying "well hello there little girl." Ah yes, that's my dad. Scaring little children...all in a day's work. Haha! :)
We hung out there for a few minutes while Reuben got passed around from Grandpa to Aunts Lydia and Louisa. Then it was time to head out to my sister Emily's house in Litchfield which is where we were planning on staying for the duration of our vacation.
I met Emily's new husband Keith for the first time and got to see my sister Rachel and her girlfriend Jamie who were visiting for the evening.
Lily had fallen asleep on the short drive to Emily's so I took her cue and made it to bed before midnight to hopefully get a good night's sleep.
Day 2
Monday, August 27
Our second day in Maine was pretty low key. I wish I could have slept in but Lily decided to get up at her usual time to play with her cousins.
There was mud pie making, wagon riding and animal playing a lot that day. Did I mention my sister lives in the sticks of Maine and has a goat? Yeah, its a regular menagerie around there. There's also Oliver the Yorkshire Terrier, Celeste the pregnant cat and several thousand mosquitoes. I'm not kidding about that last part. I only wish I was. :/
That night after dinner, Emily and I took the littlest kids and ran to Walmart for a few things. We stopped and got some ice cream first of course.
We ran into my sister Maggie at Walmart. She's pregnant with her second daughter and due in about 1 week. She's ready now though. I remember that feeling all too well.
Reuben was having one of his cranky I-am-so-exhausted-but-I-won't-go-to-sleep nights and no matter what I tried...nursing, bouncing, carrying, rocking, shushing...he was not going to sleep. Maggie held her nephew for the first time and right there in the store he went to sleep in her arms. Isn't that how it always goes?
Lily was fussy because it was way past her bedtime. She was trying to sneak a package of grape sized tomatoes past us and then she took a bite out of an apple. I returned it to its shelf, bite side down, and we quickly checked out and went home to bed.
Day 3
Tuesday, August 28
Our third day here went the same way as the day before. Lots of playing outside, eating my sister's yummy cooking and just general lounging around the house. After a lazy afternoon I really wanted to get out of the house for a bit so I borrowed Keith's car when he got home from work and my kids and I drove into town to my dad's house for dinner.
He made his specialty - spaghetti. Yummy. Lily had second helpings. In fact she's been eating a lot more since we've been up here. I wonder if its the cooler weather.
My sister Maggie came over for dinner and brought Alaina her 5-year-old-daughter whom I'd only met once years ago when she was 2. Alaina could barely contain her excitement at finally meeting her "Baby Cousin Lily." The little girls played outside in the grass with their Aunt Lydia before dinner and made tents in their Aunt Louisa's room afterwards. They got along so well!
Maggie, Lydia and Louisa took the little girls to get ice cream after dinner and brought some back for Dad and I. We sat in the living room, taking turns trying to get Reuben to sleep (another cranky night) and had some great conversation. I always have such an enjoyable time just sitting and chatting with my dad. He's so great to reminisce with. I always learn something new about my family history during my talks with him.
Day 4
Wednesday, August 29
We woke that morning to a chill in the air so I bundled my two up all morning long. It quickly warmed up though and ended up being a gorgeous day so Emily and I took all of our kids for a walk in the afternoon.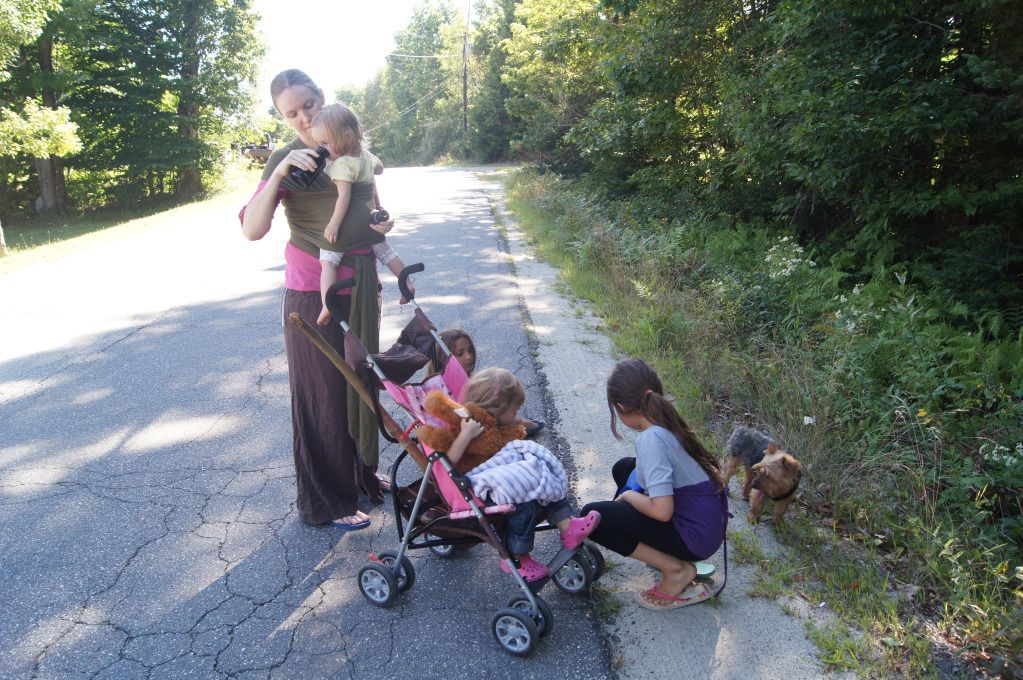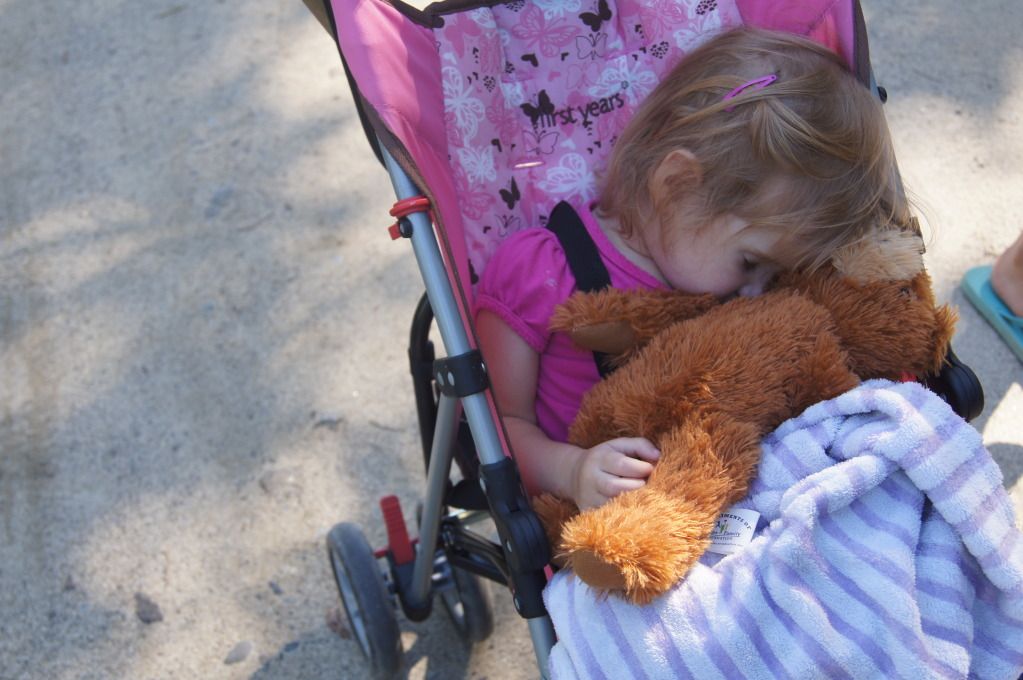 Days 5+ coming soon!