Day 6
Friday, August 31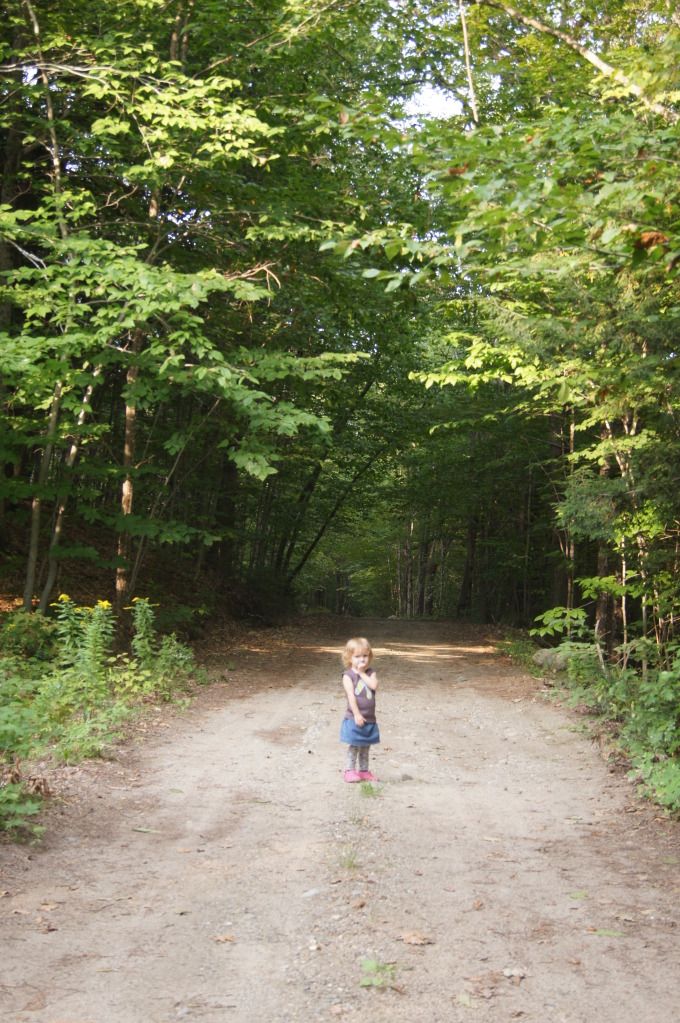 Lily, Reuben and I went for a walk late that afternoon. It was nice to get away just me and the kids after spending days in a small house with 8 people. It also provided me with a few special moments with my daughter since Reuben promptly fell asleep in the carrier. She held my hand and chatted about all the things we saw along the way: acorns, leaves, trees, rocks, and the "whole big" road. I've missed it just being her and I and sometimes feel like she gets ignored and put off since Reuben takes a lot of my time and attention. So it was wonderful to reconnect and focus on her for a few moments. It was also nice having those few quiet seconds since later my sister and I got into an argument and the kids and I went into town to stay with Dad for the remainder of our vacation.
Day 7
Saturday, September 1
There's nothing like being woken up by your little brother - whom you haven't seen in a few years - giving you a kiss. He's so incredibly sweet.
Lily was up late the night before, what with having to move all of our stuff into my dad's house (in the rain no less) and staying up to visit with Grandpa and her aunts, and still woke up early that morning. So after a little bit of breakfast she laid down on the couch and went to sleep. Reuben woke up early too but even he went back to sleep after just a little bit. Dad and I chatted the entire time they were sleeping. Then Lily woke up with a high fever. She didn't eat much all day. She ended up taking another afternoon nap and then a short evening nap. My sister Maggie brought lasagna over for dinner that night and Lily got to play with her cousin Alaina. She was feeling much better by then. Reuben even got in on the playtime action watching the girls jumping on Louisa's bed. He laughed for the first time!
Day 8
Sunday, September 2
Today was the big family party at the lake. But when I woke up it was overcast and chilly. So it got changed to my sister Rachel and her girlfriend Jamie's house. I made buffalo chicken dip. Dad didn't go cause he wasn't feeling well. Lily didn't have a nap all day and boy did it show. She was cranky before we even left Dad's house (late) about 2. Then she was cranky a lot of the time we were over at Rachel and Jamie's. But she did have a bit of fun playing with the kids and eating (she didn't eat much - she still wasn't feeling 100%). Everyone had a blast eating, watching movies, and chatting. Later it cleared up and the party got moved outside. We stayed till early evening then I took the kids and my sisters Lydia and Louisa home. I put the kids to bed, Lily went right down, but Reuben took a while. The girls and I went to Walmart while Dad stayed home with the little ones. When we got home Dad was sitting with Reuben on the couch. Apparently he had woken up a little bit after we left and was inconsolable no matter what Dad tried. Dad was a good sport though and tried a bit of everything. But the boy wanted his mama. :) To end the day the girls and I stayed up late looking at pictures and watching videos on my external hard drive I brought with me to Maine.
From top left: sister Clara, Reuben, sister Rachel's girlfriend Jamie, sister Emily's daughter Alice, brother Quinn, sister Lydia, sister Louisa, Emily's daughter Mariella (hiding), Emily's daughter Madeleine, me, Lily, sister Maggie's daughter Alaina
Apparently I missed the act like a doofus memo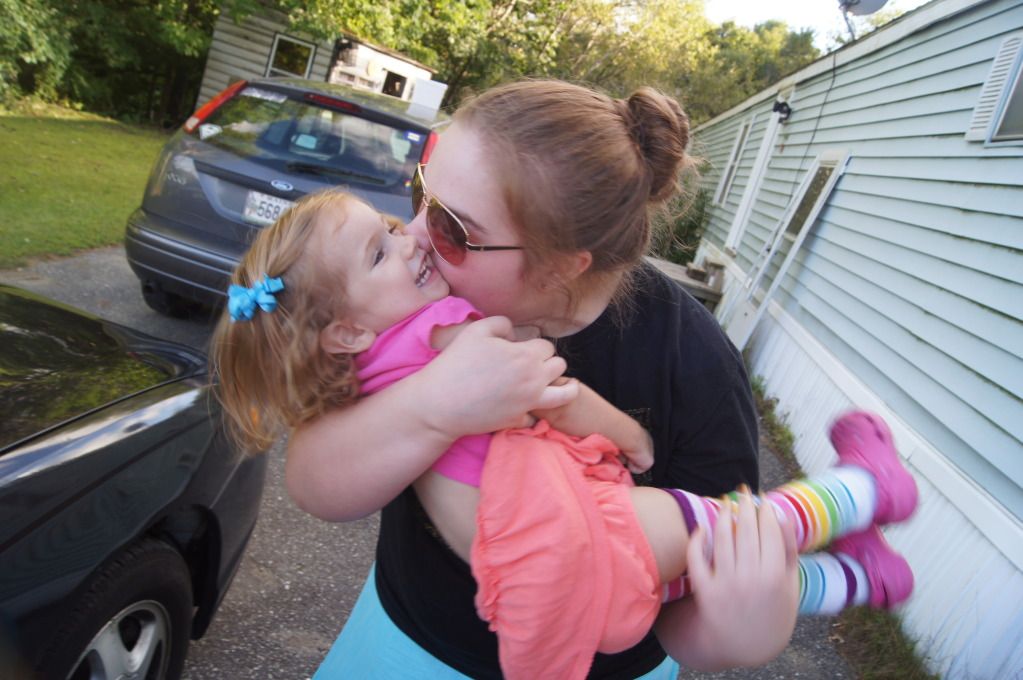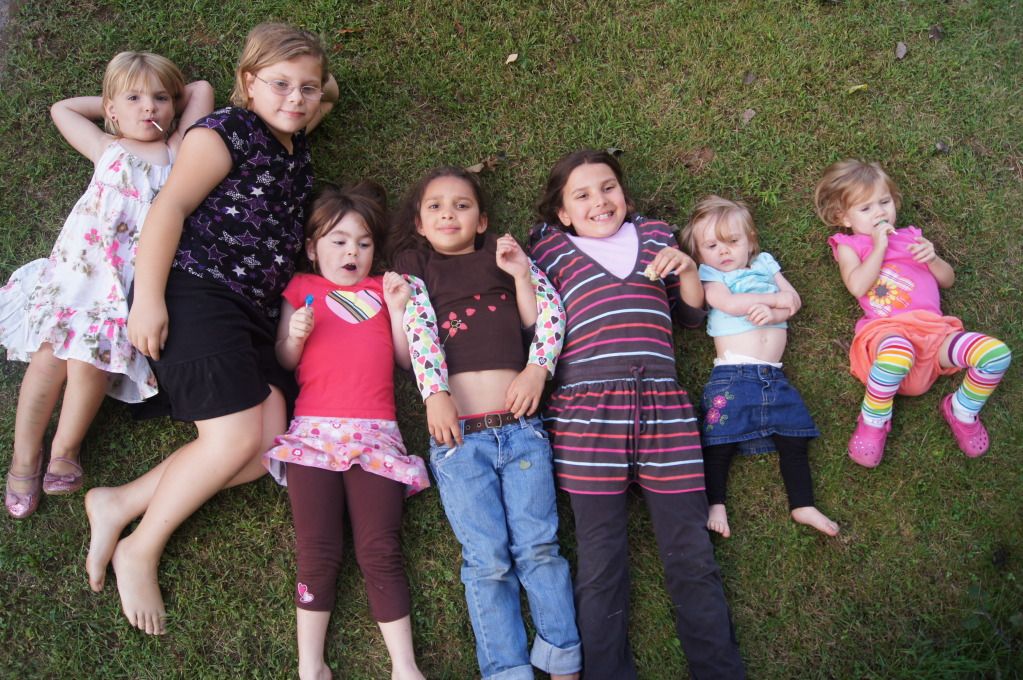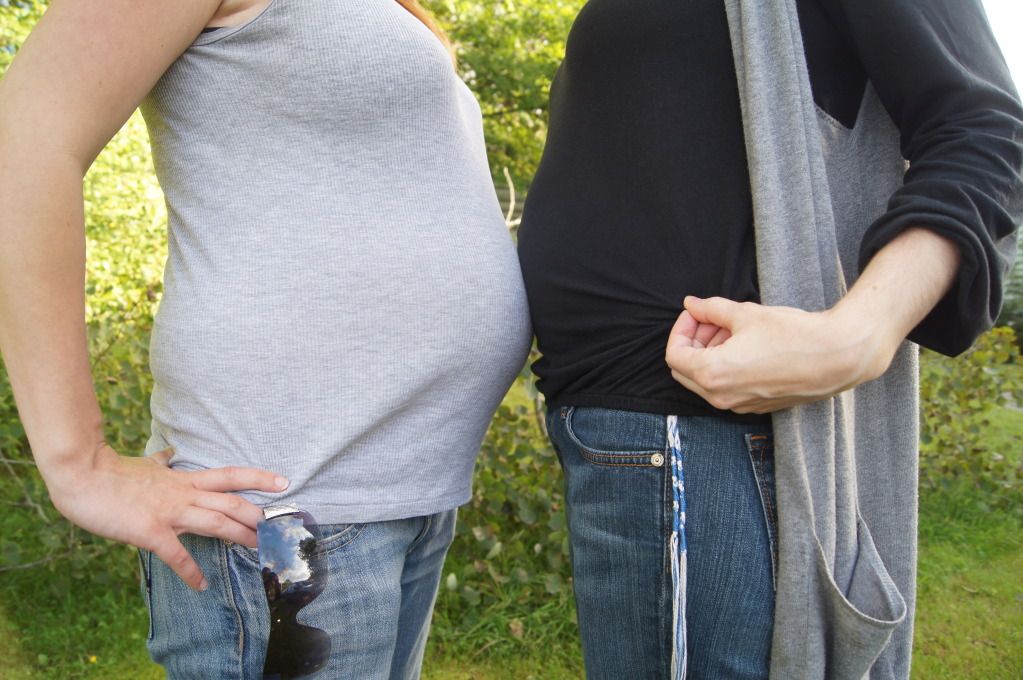 You can check out days 1-4 of our vacation here and day 5 here.