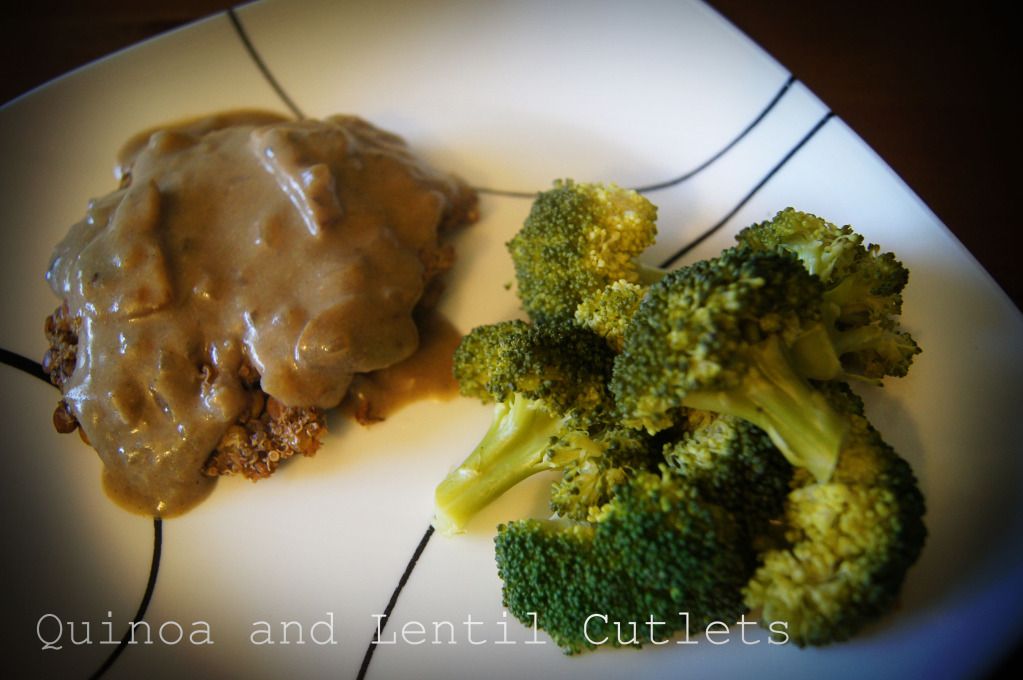 Knock another recipe off my Pinterest to-cook list. I made these Saturday night and let me tell you, they are definitely going on my make-it-again meal list. They are so good! They are also vegan and gluten-free. Or at least they're gluten-free the way I made them. The recipe calls for vital wheat gluten, but since I cook gluten-free for Andrew, I altered the recipe to fit our eating style.
Recipe for Quinoa and Lentil Cutlets can be found
here
.
Recipe for Impromptu Mushroom Gravy can be found
here
. -
Its the third recipe down.
Both recipes from
Fat Free Vegan Kitchen
. I'm going to be trying a lot more of her recipes in the very near future.
As for how I modified the cutlet recipe, since I figured the vital wheat gluten was needed as a binder to keep the patties together, I replaced it with flax seed meal mixed with water. The exact measurements are 1 tbsp of flax to 3 tbsp of water. I use this as an egg replacer all the time. Works great. However, this time my flax meal concoction didn't get to an egg like consistency like it usually does before I put it in. When I added it to the quinoa/lentil mixture it made it very watery. So next time I'm going to add a bit of cornstarch to thicken it up.
I also used regular (?) lentils since I didn't have red ones. I don't think I've ever had red lentils so I don't know if it made a difference.
Also, let me just rave about the gravy for a second. Best.gravy.ever. And again its vegan! Simply amazing! I'm going to make it and put it on everything now. Well maybe not ice cream...
I also altered the gravy recipe a bit, leaving out the sherry, and substituting mushroom broth for the vegetable broth (I didn't have vegetable broth and the mushroom made sense since it
is
a mushroom gravy) and whatever gluten-free kind I had on hand, brown rice flour in this case, for the unbleached flour.
The best thing about this recipe? I found something that everyone will eat. Yup. Its husband and toddler approved as well!
Lily's been pretty picky food wise this weekend. Eh, who am I kidding? She's picky a lot. But she ate this and even asked for more. Of course she didn't touch her broccoli, but what else is new?
Its a daily struggle to get her to eat anything. I'm always having to remind myself that she needs a lot less food than I do and that she'll eat when she's hungry. The nice thing about having a toddler is that she can tell me when she's hungry. So at least I know I'm not starving her. That's a small comfort.
One of the reasons why she may have been so fussy this weekend is she came down with a low grade fever last night before bed. I think some of her fussiness got transferred to Reuben as well. While Lily went to bed early and promptly fell asleep, Reuben kept us up till at least 11pm...crying most of the time. I had no idea what was wrong with him. I nursed him, burped him, changed his diaper, swaddled him, rocked him...and he still screamed at the top of his lungs. I alternated between setting him down on the couch and walking away for a minute and holding him close and crying with him. It was not pretty. Finally I took him to bed with me and nursed him to sleep just in time for Lily to wake up about 12:45 crying out for me. Her fever had spiked and she felt like she was burning up. So I gave her some Tylenol and she went back to sleep. She woke up once more before the night was out. Luckily Reuben only woke up once or twice so I managed to get some sleep.
I say all this, not to complain about how terrible my life is and to gain sympathy, because it is far from terrible, but because I don't want someone thinking that I have it all together. Because, as those who know me personally know, I do
NOT
have it all together. There are good days, great days in fact, and there are...not so good days. Like this weekend.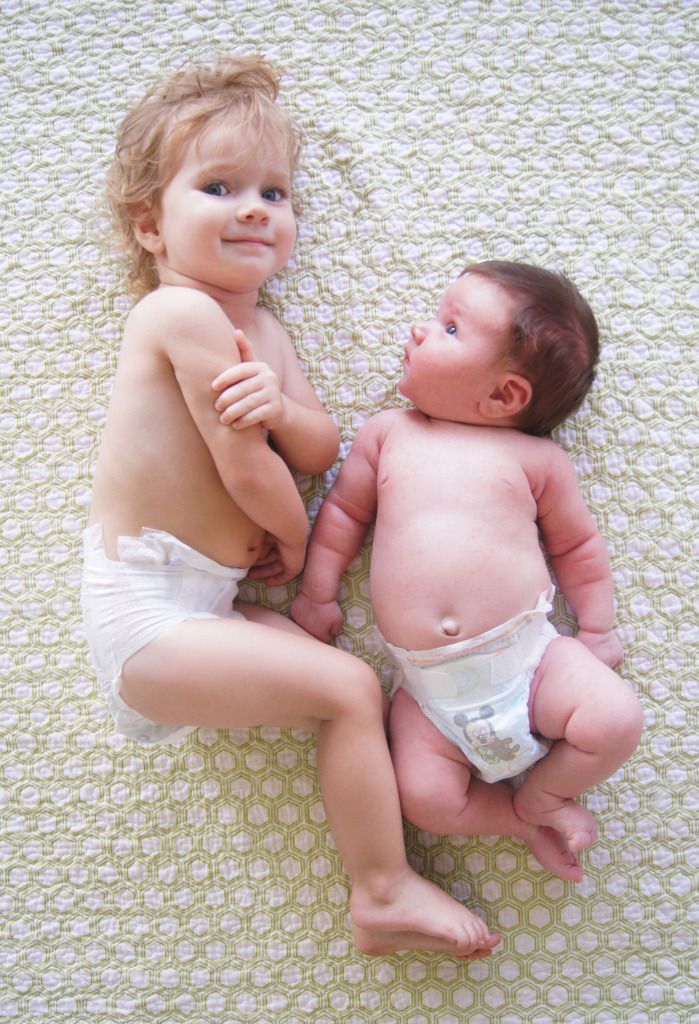 But in the end, something so small as a sweet "I love you Mommy" from Lily or a quick, open-mouthed grin from Reuben makes it (almost) all better.