For my
Pinterest challenge project
I decided I wanted to make something that was easy and not too time consuming because I knew at any moment Little Man could start crying for his breakfast/lunch/dinner and unless I did it when Lily was in bed, I would have a tiny girl wanting to "help" me every step of the way.
Another criteria was that it needed to be something I've had on my to-do list for a while. I mean, that's the whole point of this challenge right? To get off our pinning butts and for-goodness-sake make it already?!
I've had this t-shirt bag from
Martha Stewart
pinned for a while now.
And I had the perfect t-shirt for it. We took a trip out west two years ago when Lily was just a few weeks old (call us crazy - I know) and when we were in Hollywood I picked up this shirt.
It was a bit too big for me (and honestly..besides as sleep or workout wear...its not really my style) but I knew it would be perfect for a bag!
Seriously, this project took me like 15 minutes from start to finish. I followed the directions except for a few minor alterations. I rounded the corners a bit on the bottom because I didn't like how they stuck out in the picture. Also, after I cut the sleeves off, I stitched down the edges so that they wouldn't come unraveled. Just 4 small back and forth lines, 2 on each side.
And here it is as modeled by Lily. :)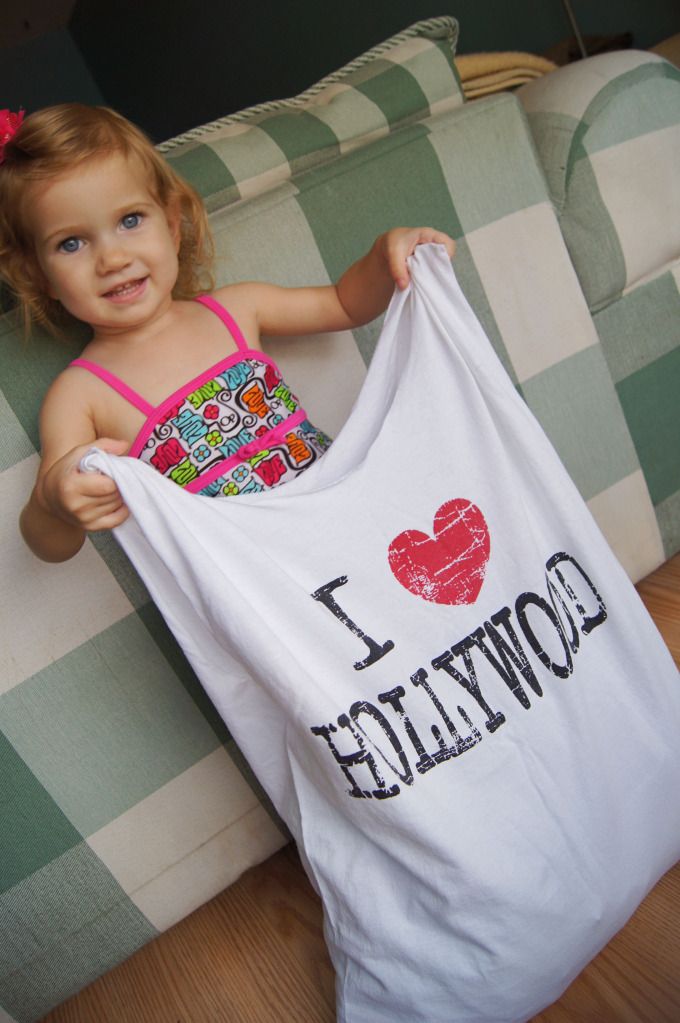 I figure it will be perfect for throwing stuff in when we go to the beach...or anywhere for that matter. Its amazing the amount of extra stuff you have to take with you when you have an another child.
Today I'm linking up with these girls and I couldn't be more excited about what they dreamed up for this challenge.
I especially love what Michelle created. You have to go check it out! I'm obsessed and want to make one of my own now!
This challenge was a lot of fun and I'm so glad to have another project ticked off my Pinterest to-do list.
Next project - pretty, designy to-do lists! ;)