We were in Orlando this past week and what's a trip to Orlando without a stop at IKEA? Not going is practically sacrilegious! Well...in my world it is anyway.
We hadn't
planned
on buying anything, I just wanted to look around and gather ideas for decorating the nursery and whatnot (because IKEA's great for that!). But as usual, we cannot take a trip to IKEA without purchasing
something
.
I've been on a mission to redo Lily's room since we have another little one on the way and eventually he and Lily will be sharing the room. There are several big ticket items that need to be purchased such as a dresser (bought it and put it together Thursday night!), a toddler bed for Lily (which we have, set up already) and a toy storage system (we haven't settled on anything yet, but I have a few ideas).
My goal was to take pictures of things that struck my fancy so I could look at them at home and make plans from there.
I saw this and thought it might work as a hamper in the nursery. Its technically a wastebasket and its not that big which would be great since we don't have a lot of room in there anyway and I would have to empty it out more often which means clothes wouldn't pile up for days and days. Its better than the system I have now which is...nothing. Dirty clothes seem to end up everywhere.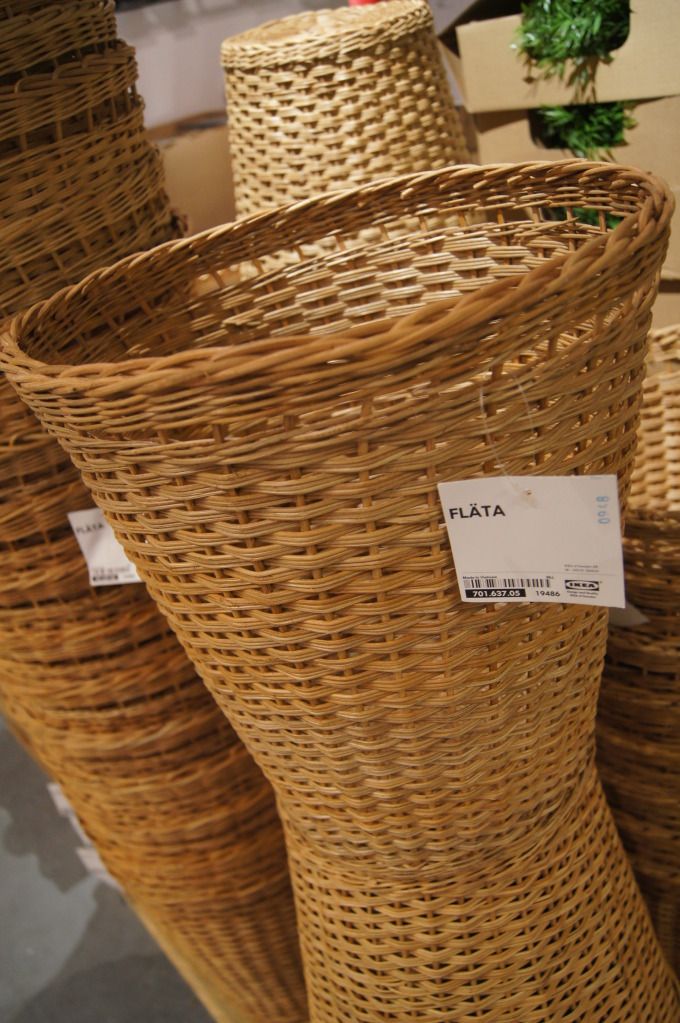 FLÄTA wastebasket
I've been wanting to get a small table and chairs for Lily for like forever. She needs something to color and play with her toys on. But I can never find one I like. I don't want a cheap plastic set and it needs to be small enough to fit in the middle of her room or maybe out in the living room up against the wall. Wherever it goes, we don't have a lot of room in our house so that automatically eliminates a lot of options. Except this one. Its cute and perfect! And it comes in so many different colors. You could mix and match!
KRITTER table and chairs
This caught my eye, not because I'm looking for a small Lily size chair, but because it was so tiny and cute!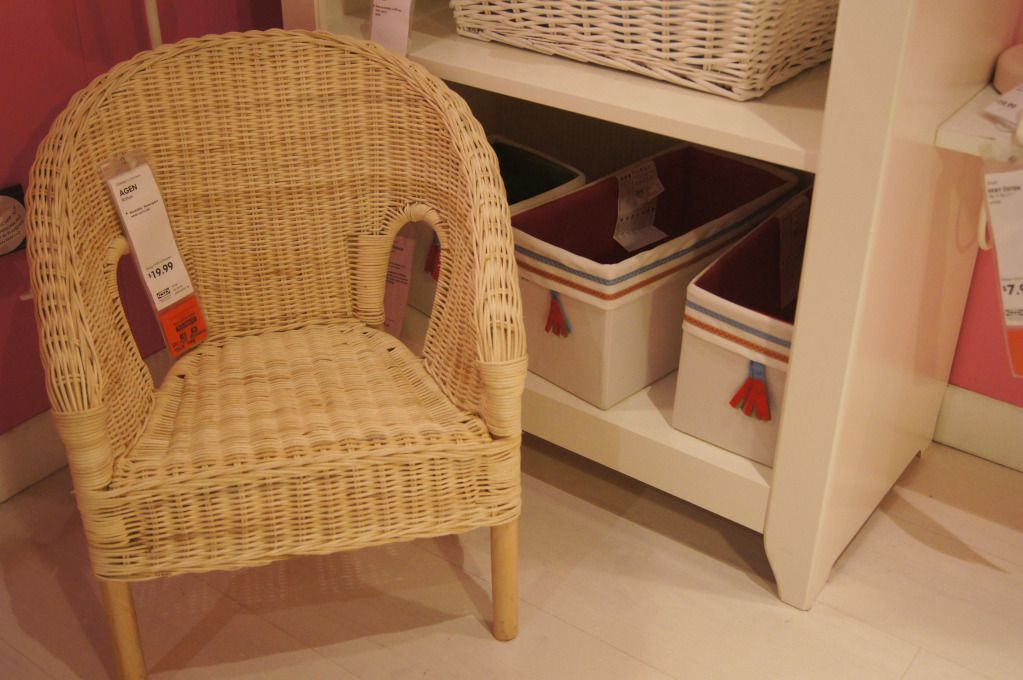 AGEN children's armchair
I loved this idea for displaying your child's name in their room. I've been brainstorming different ways to do just this. Not to mention that's my niece's name. :)
VIRSERUM frame
The three pictures above are from a room display that Lily dubbed "The Princess Room" as soon as she saw it. Except when she says it it sounds more like "Pincess." The bed curtain was her favorite part. Maybe an idea for over her toddler bed?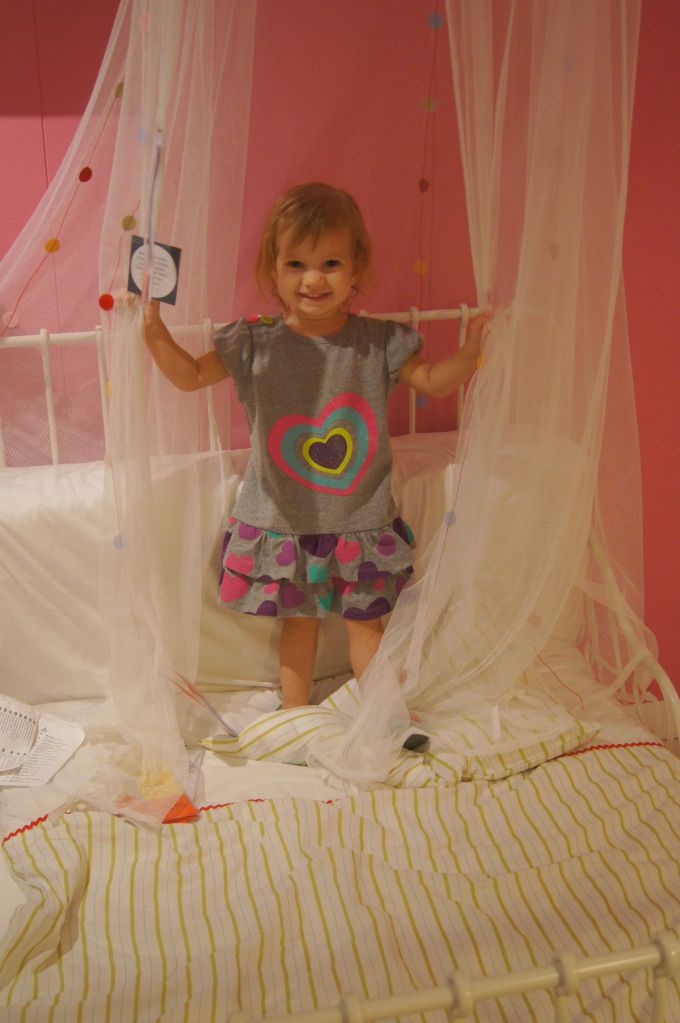 FABLER bed canopy
Something else I have been longing to get/make for Lily is a play kitchen. But alas. Again, we have no room for it. But she had fun trying this one out while we were there.
DUKTIG mini-kitchen
As for a solution to the lack of toy storage space in the room, after finding these ideas on Pinterest I'm convinced an
EXPEDIT shelving unit
would be perfect for the space. I'm thinking a 2x4 unit would work (check out #4) if we stood it on end. Ideally I'd love a 5x5 (like in #7) but we just don't have the room. Maybe someday.
I love the different basket ideas for small toys (like Legos and blocks) and the different ways to store books and larger toys.
1.
Cape 27
2.
Jack and Izzy
3.
Ohdeedoh
4.
Project Nursery
5.
Buy Modern Baby
6.
Chic & Cheap Nursery
7.
Young House Love
8.
Pepper Design
9.
Armelle
At the end of the day we ended up going home with something we hadn't planned on purchasing but something we've been on the lookout for for a while now and that we need very much. A dresser for the nursery. I even let Andrew talk me into which one to get. I wasn't keen on it at first, I thought it was too modern and I was looking for something more traditional, but now that its set up in the room and I've put the kid's clothes in it, I am in love with it. We got the
MALM 6-drawer dresser
in white and I have to say we couldn't have made a better choice. The design is sleek and doesn't clutter up the look of the room with too much embellishments if you know what I mean. It blends right in. And boy is it roomy! You could fit a small child in one of those drawers.
Kind of like my child. ;)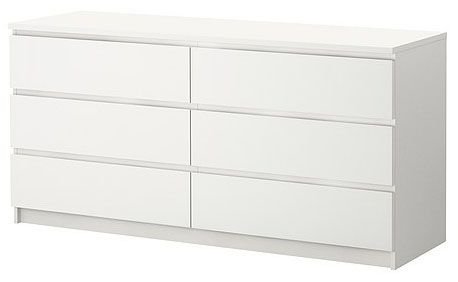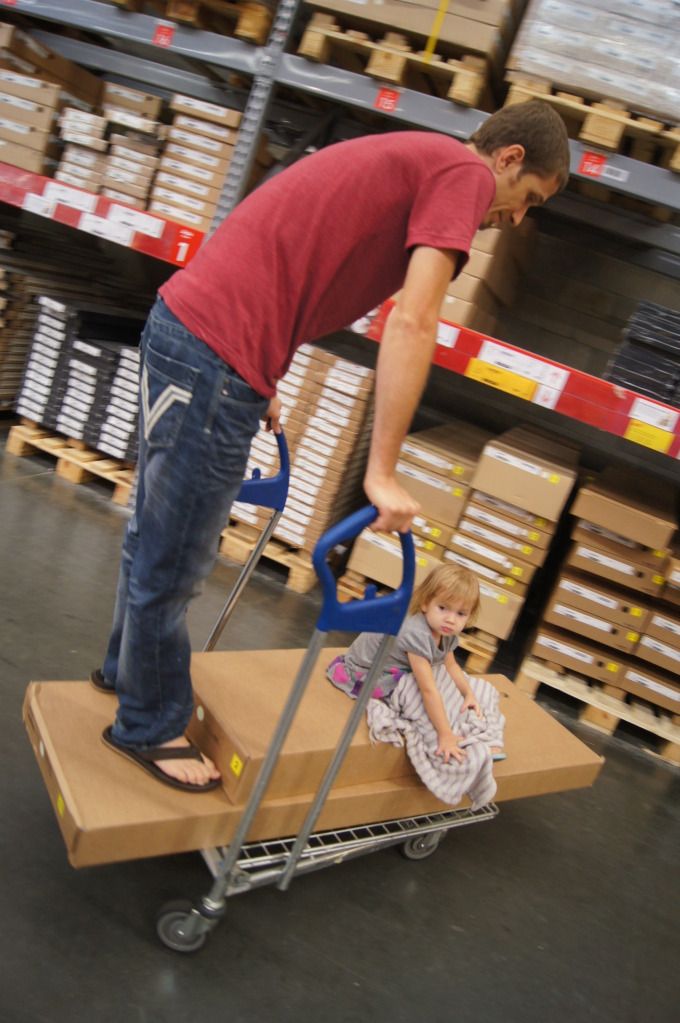 Eventually all of these ideas will culminate in a finished nursery and I can't wait to share all the gorgeous details with you. But that's for another post...