Lily had her first sleepover this week and let's just say it wasn't a huge success. Actually, I was just babysitting a friend's daughter overnight but I kept calling it a sleepover cause it sounded cute. :)
They're both only 2 years old, or almost 2 in Lily's case, so sleepovers aren't something that will be happening too often any time soon. But it was interesting to watch them handle the situation.
Really the only rough patch came when it was time to go to bed (of course). I put Emilie (the little girl I was watching) to bed in Lily's toddler bed in her room and Lily slept in her crib. Emilie cried for her mommy for about 15 - 20 minutes, then rolled over and went to sleep. Lily on the other hand, cried and screamed for about 45 minutes. I think she was upset that her routine was messed up and didn't want anyone else in her room with her. Creature of habit that one. Takes after someone else I know...hmmm...;) In the end a lot of soothing and reassuring both of them that everything was ok and Mommy loves you helped out a lot.
During the course of the night and day that she was here they watched some Curious George:
Played with Lily's birthday gifts:
Had lunch:
And took naps (Lily's trying to get Emily out of bed after nap time by enticing her with "play toys!"):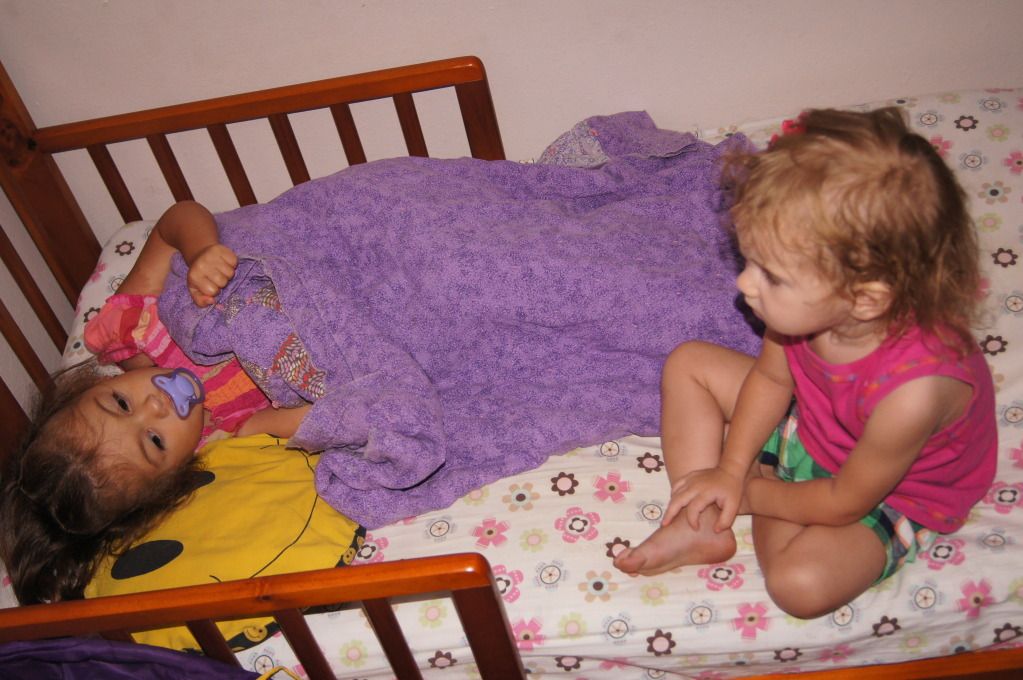 We'll see how a "real" sleepover goes when they're a few years older.