Up until yesterday we've kept Lily in the same infant car seat we took her home from the hospital in (insert nostalgic sigh here). She hasn't exceeded the weight limit for it yet - tiny thing that she is - but we have noticed that she has to curl her legs to get comfortable while sitting in it. And she isn't crazy about reclining backwards in it anymore (except for when she falls asleep). She also really enjoys talking to us about what she sees out the window and that's hard to do when you have to crane your neck at an awkward angle to see and speak with your parents. She doesn't fuss, complain or cry about being in her seat, on the contrary, she really likes it, but we figured it was time to bump her up to a big girl car seat. I expected she would love to be front facing and since she finally hit the minimum weight mark for most convertible and booster car seats and she's almost 2 years old, we're finally able to do that according to the
American Academy of Pediatrics guidelines
.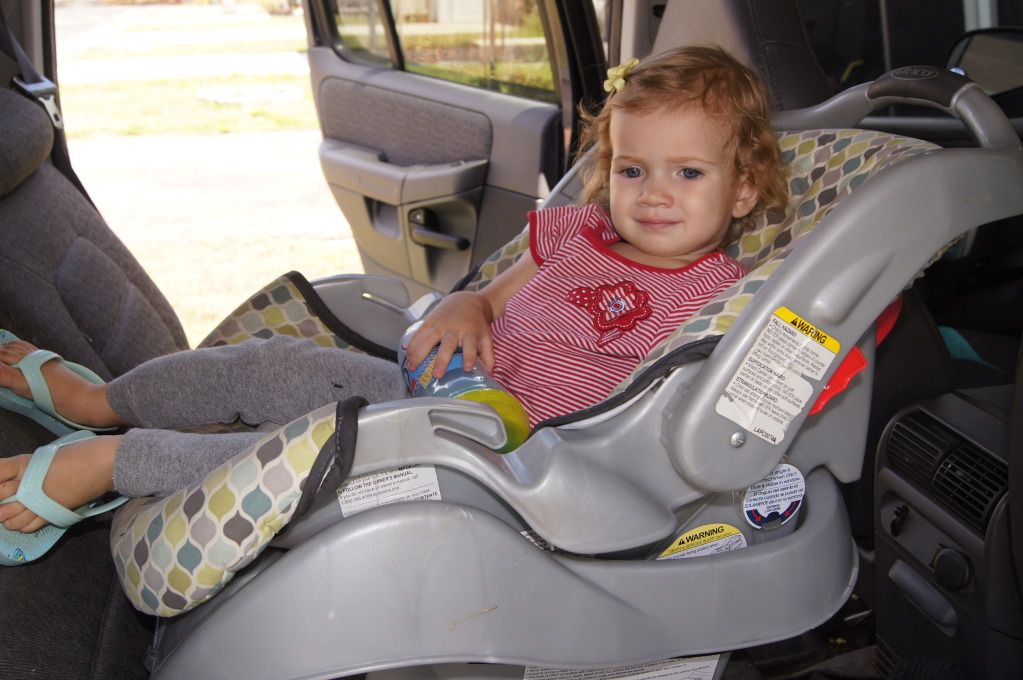 I had started researching car seats online when a friend showed up yesterday with her daughter's car seat that she had outgrown. Yay for hand-me-downs! I love that its a neutral color so we can use it for both a girl and boy (since that will be happening) and it has so many amenities that I hadn't thought of like a slide out cup holder, pivoting armrests and 3-position recline. Of course the best part is that it was free!
Here she is trying it out after Daddy installed it yesterday.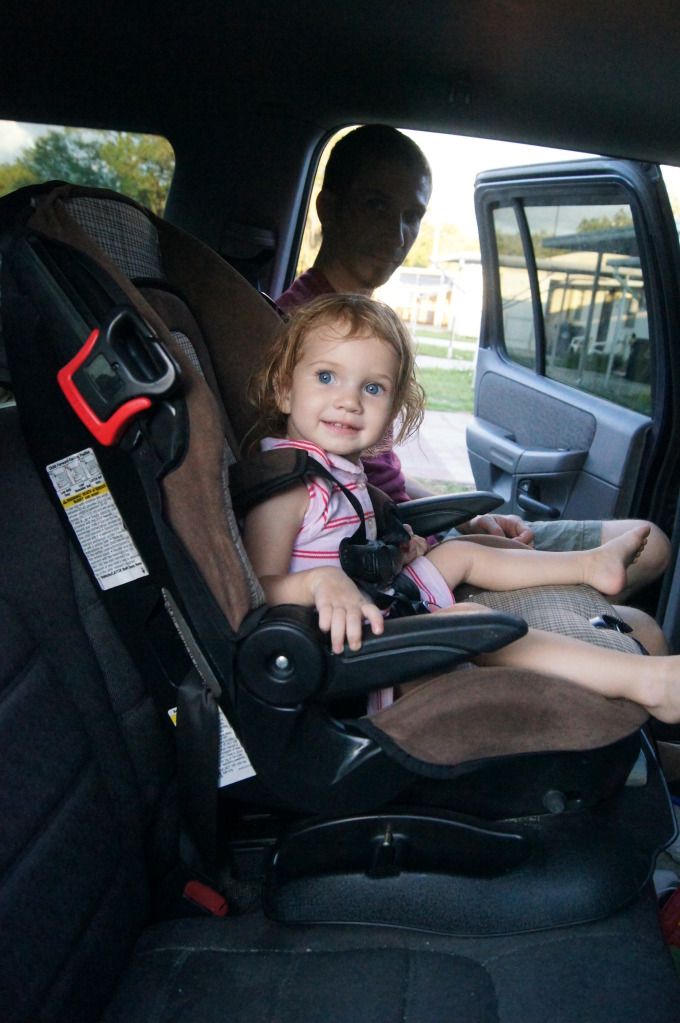 Testing out the armrests and making sure she can still use her toys while in it. All systems go!
She really got to try it out for the first time today. When Andrew got home from work we all hopped in the car and drove around town running errands.
She kept a running commentary going about trains and trucks and how "very hot" it was. Yes. Our AC isn't working and both back windows are broken right now so they're closed all the time. Add to that that it was about 90 degrees with the humidity in the range of 60% and you have one toasty little girl in the back seat. But we kept her well stocked with cool water and didn't stay in the car long. Not when Lowes and Home Depot have
working
air conditioning.
It was kind of a sentimental moment for me remembering sitting in the back with her the day we brought her home from the hospital in that infant seat. Now she's sitting in her big girl seat telling us about everything she sees as we drive down the road. Almost two years has gone by way too quickly. I try to savor every moment big or small.
Like new(ish) car seats.