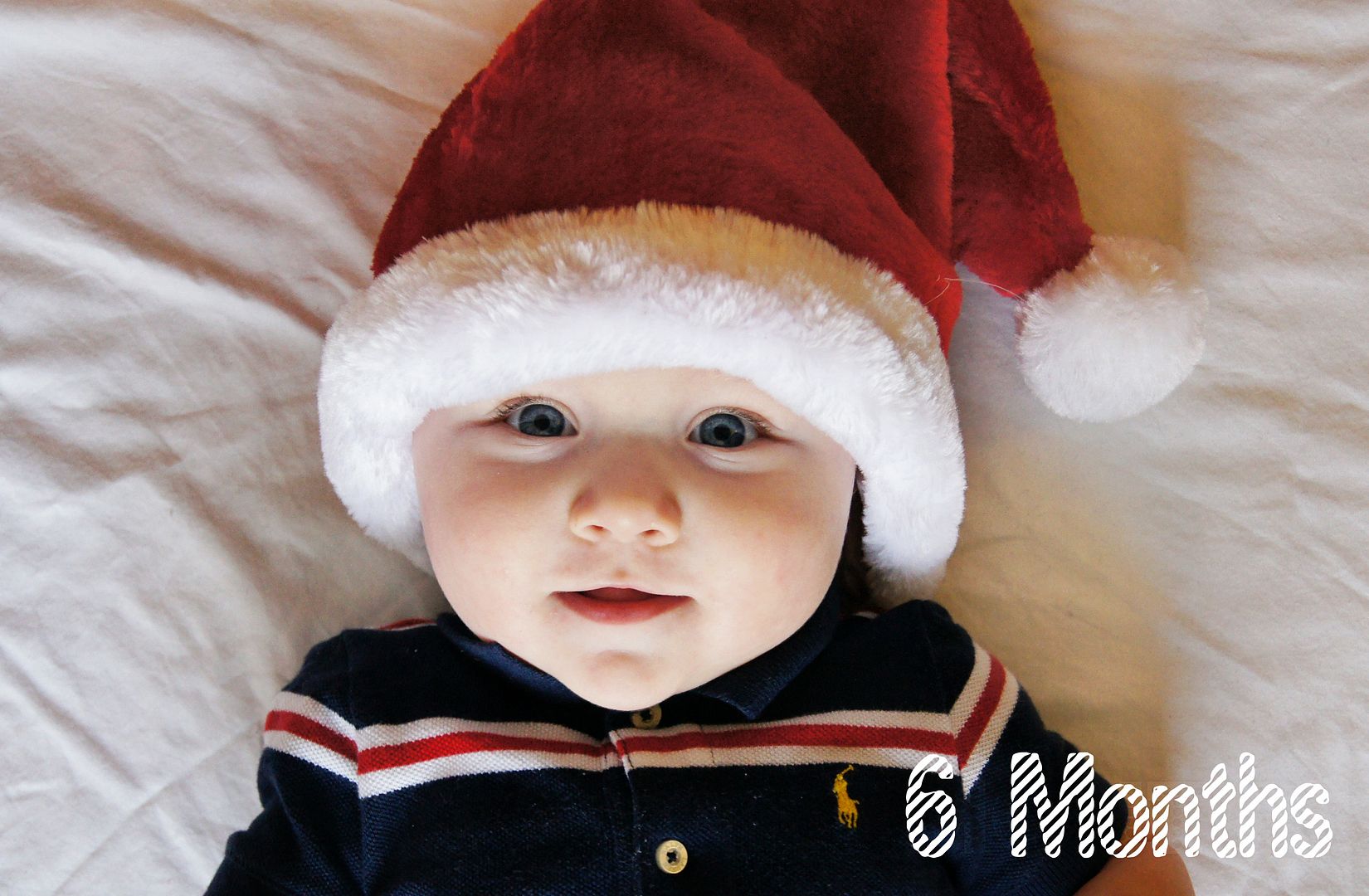 19 lbs. 8 oz. (80th percentile)
28 1/2" long (100.2 percentile)
Wears 9 month clothes

Happy 1st half birthday to my little man! Reuben turned 6 months old Christmas Day and oh what an amazing 6 months its been. This month has always seemed like a pivotal point in a baby's growth to me. Its like your precious, helpless little baby has been taken and replaced with a sweet, determined, boisterous infant. And it all takes place overnight...or so it seems. No wonder babies get cranky for no reason sometimes...it must be exhausting learning so many new things in such a short time!
This month was no exception. He's learned so many things this past month its difficult to remember all of the latest developments but here is a list of the ones that come to mind.
Can sit in the tripod position (a hand supporting himself on the ground) and is *this* close to sitting on his own...without falling over.

Tried a bottle of expressed milk for the first time and loved it!

Got his first tooth 3 days before turning 6 months old and boy is he aware of it! He enjoys licking it and feeling it with his fingers.

We set up his crib and he slept in it for the first time. He now sleeps in it for naps and when he goes to bed at night. Of course he still ends up in bed with us for the rest of the night after waking up to nurse sometime in the very early morning hours.

I started signing "nursies" (using the sign for milk) to him in his 4th month but really started using it each time I feed him this past month. He gets very excited when I sign it and ask him if he wants it.

Started babbling and using certain sounds over and over such as "ee", "oo", "eh" and "na".

Pats and smacks things (mostly with his left hand - maybe a sign of future hand preference? :)

Has perfected the rod maneuver when we tried to get him into his car seat, stroller...pretty much any place we need him to sit down and he doesn't want to. Except the carrier. He loves being in the carrier.

Tries grabbing food from your plate and shows an interest in whatever you are eating.

Leans forward and stretches out his hand to grab toys and pull them to himself.

Prefers rolling from back to front and almost never rolls from front to back.

Sat in a highchair for the first time.

Hates "tummy time" (I hate that term), and prefers sitting up in his Bumbo or on the couch instead.

Still wakes up every 3 hours at night (at least the first half of the night - the rest is a blur after I bring him into bed).

Picks up on emotions around him and gets scared at loud noises.

Recognizes faces and voices and watches people around him. His favorite person? His sister, hands down.

He's a social butterfly, he smiles and flirts with ladies (and gentlemen) at the store and wherever we go.