One thing I loved about living in the "big city" were the farmer's markets each weekend. I only went a few times but it was such a blast checking out the fresh fruits and veggies, homemade goodies and exquisitely made craft items.
When I came across a flyer in church last weekend announcing that there is now a farmer's market here in town I couldn't wait to check it out!
So Thursday evening Andrew, Lily and I took a quick drive down to the park where they are going to be holding it each week.
Lily, of course, headed right for the playground.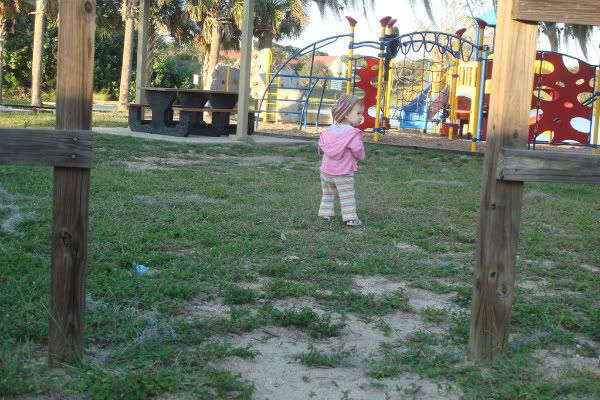 We just walked around and checked out the booths. There were about 10 booths total, the market's only been open for about a month so it has some growing to do...hopefully. We didn't plan on buying anything until we came upon this vendor.
Andrew had mentioned a while back that he wanted to buy a rosemary plant. Theirs were cheaper than Home Depot, Lowes or Walmart so we picked one out to take home.
I'd like to take a moment here to point out that Lily is wearing a hat. Maybe it has to do with the fact that she can say "hat" now...I don't know. It may not seem like such a big deal to some people but this is the child who from a very young age would rip off anything that came in contact with the top of her head. This particular hat was given to her by her Aunt Charlene. A mutual friend crocheted it for her daughter but it was too big so Lily inherited it. Obviously she has some growing to do before it fits well.
While Andrew chatted with the plant people I chased after Lily and prevented a few disasters. Mainly this one. I recognized that look. She was contemplating eating a hot pepper she picked off the plant.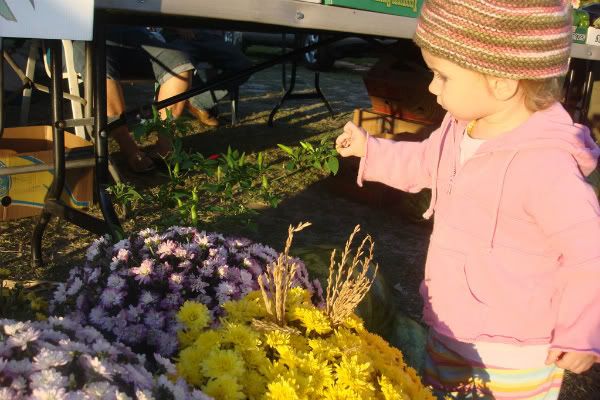 She's so cute. I randomly tell her that all the time.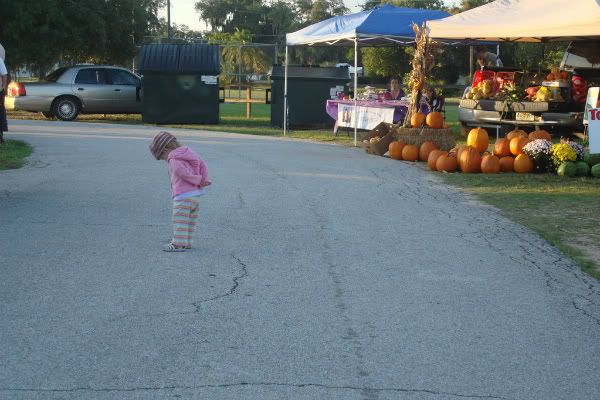 We almost bought some jam that looked super yummy.
I think we both had an issue though with the fact that it was shipped in from Pennsylvania. I mean, aren't farmer's markets supposed to be full of local food and items? Yeah, that kind of put the kibosh on that for us.
I hope more and more people discover the market and help make it grow to several times its size. I'd love to see more crafty type booths with homemade food and knick-knacks. I even had a tiny flicker of an idea (it was very tiny since I don't have a lot of extra time in my day) to open a booth myself and sell homemade treats and maybe some of our honey. I didn't notice a great selection of honey there. I could be biased of course. :)